What is the best way to spend time in Osaka on a trip to Japan? The answer is simple: go to the Dotonbori area of the city and take advantage of all the fun things to do and see. For years, the popular area has been the must-see stop on any visit to Osaka, one of Japan's largest and most exciting major cities.
Osaka is the home of Japan's "food culture" which is sometimes called "kuidaore," a word that translates as "cuisine that can ruin you." That's a clever way of saying, "Osaka has everything and anything you might want to eat."
Where is it? The Dotonbori region is easy to find. It goes from the Nipponbashi Bridge to the aptly named Dotonbori Bridge, just alongside the canal. This highly traveled area in Osaka's Namba District is home to some of Japan's best nightlife, brightest electronic billboards, and interesting activities.
Many years ago the area was strictly a theater hub, sort of like the Broadway or West End of Japan, but no more. Nowadays, Dotonbori is the place where locals and visitors go to have fun. It's more like Times Square or the Las Vegas Strip than an old-fashioned theater district.
A Famous Cultural Landmark
What is Glick, and why does every Japanese person know about the company's sign in Osaka? Glick is the name of the candy company that has the giant electronic billboard in Dotonbori. It depicts a runner crossing the finish line of a race and includes the company name. Millions of people take selfies in front of this iconic landmark every year, as they humorously imitate the pose of the runner on the billboard, hands in the air with one foot off the ground.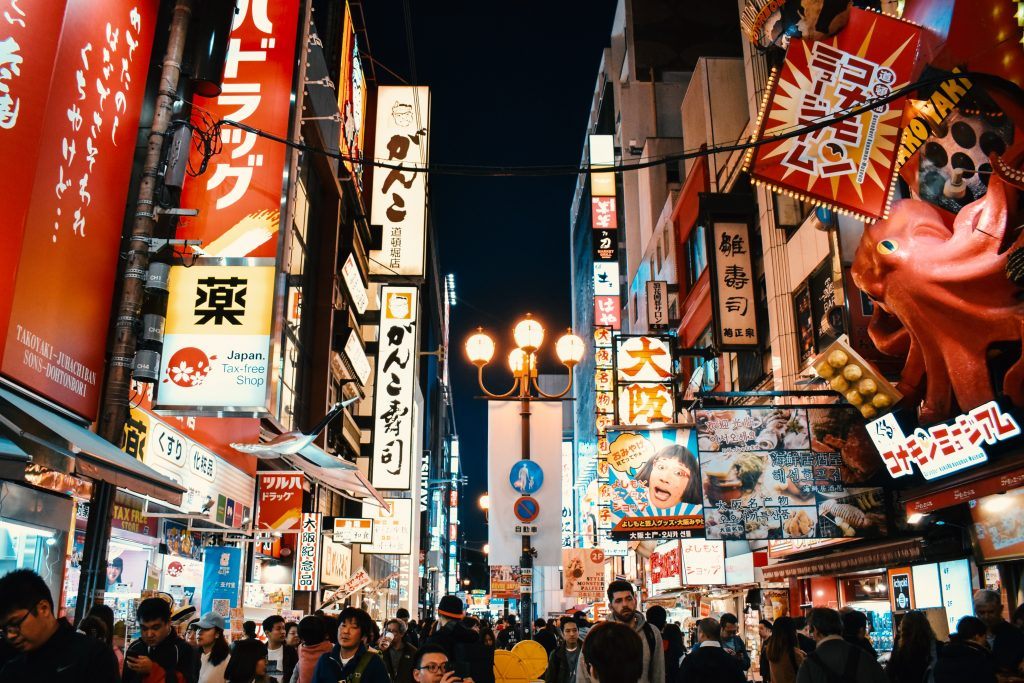 Osaka is widely known to foodies for its unique food culture, sometimes called "kuidaore." The many restaurants along the Dotonbori Canal offer hundreds of dishes that are part of this type of cuisine, beloved by Japanese people from all over the country as well as millions of visitors from all over the globe. Dotted with blinking, shining electric billboards, gaudy neon lights, and kuidaore restaurants, the Dotonbori area is a magnet for those who want to spend a fun night out in Osaka.
Where to Go? What to Do?
Visitors should remember that to get to the Dotonbori District, they'll need to make their way to the city's Namba rail station. Just outside the station, it's just a short walk to the Dotonbori District. Along the canal on the north side is an area literally packed with wonderful, interesting and friendly bars and restaurants.
This is the part of the district that used to be a bit quieter and included many geisha houses as well. But now, the north side of the canal is where people go to eat and drink and have fun, all night long. It's also the best place to enjoy authentic kuidaore food for a reasonable price, and in the location where it originated. The best restaurants in Osaka are in the Dotonbori District.
On the south side of the canal is the part of the district that was the official theater zone, but is now where all the wildly-lighted neon signs are located, alongside more shops, bars, and restaurants. There are also back-alley avenues all over the Dotonbori District. On these quaint streets, visitors can choose from literally hundreds of different bars, grills, restaurants, and nightclubs.
One of the most famous stone streets, famed for its wonderful entertainment and food, is hozenji-yokocho, an area where time seems to have stopped about a hundred years ago. Hozenji-yokocho is one of those places like Old Town Scottsdale in Arizona or like the "old" strip in Las Vegas, where visitors feel as if they're in a time machine, seeing what life was like several generations ago.
The back-alleys, as well as the places along the north and south side of the Dotonbori Canal, are the ideal places to taste kuidaore cuisine in its full flavor and glory. First-time visitors to Japan should make every effort to get to Osaka's Dotonbori District and enjoy the great food, fun times and gaudy neon lights and best restaurants.
Don't let terminology confuse you! Japanese people say "Dotonbori" when they mean either the canal itself or the street where all the best restaurants are. The street is the Kansai region's most beloved place by far and is located just alongside the southern bank of Dotonbori Canal.
If you take a train or taxi to the area, the first thing you'll notice, especially at night, is the gaudy neon lights that are like a miniature sun and illuminate the entire neighborhood throughout the evening. No one ever forgets a nighttime visit to Dotonbori or the amazingly delicious kuidaore cuisine.
Ten Fun Things to do While Visiting Dotonbori and the Rest of Osaka
Many areas in Osaka are famous among travelers, especially Dotonbori and Shinsaibashi. Even with only a day of free time, tourists can walk around these districts and take in the sights, enjoy local food, and buy all sorts of items. By far, the shopping district of Dotonbori is the number one destination for international travelers.
The gigantic billboards, gaudy neon lights, and kuidaore food are unforgettable. Next door to Dotonbori is the neighborhood called Shinsaibashi. Here are ten must-see spots in the Shinsaibashi-Dotonbori area, and you won't need a taxi or a train. Simply walk from one to the other.
Selfie-time at the Billboards
Start at the Ebisubashi Bridge and do the mandatory selfie or group photo in front of the Glick billboard. Next, check out some of the three-dimensional signs in the area. Try to see this spot at night and in the daytime, because it has a totally different feel during day and night.
View the Kani Doraku Billboard
Almost as famous as the Glick runner billboard is the Kani Doraku one, and it's also on the Ebisubashi bridge. If you want to eat at the restaurant it is advertising for, be ready to fork out about 5,000 yen for an all-you-can-eat crab feast. The sign and the restaurant are famous and beloved by locals and tourists alike.
Eat Tokoyaki and Okonomiyaki
Osaka is famous for a type of food known as konamon, or flour-based dishes. Two of the best examples, and favorites of Westerners, by the way, are Takoyaki and Okonomiyaki. The first is an octopus treat, with the meat inside fluffy orbs of cooked batter. The latter is like a giant omelet with vegetables and other ingredients. Both are incredibly delicious and unique.
This is what Osaka food, the kuidaore cuisine, is all about. You will not have to look far for a restaurant serving these foods. Simply walk into any of the hundreds of places on the Ebisubashi Bridge or on the backstreets.
Take Photos with the Kuidaore Doll as it Beats its Drum
The giant kuidaore doll is a national landmark, and every Japanese person wants to have a photo in front of it. Why not do as the locals do and have your picture snapped in front of this adorable mascot of the Nakaza Kuidaore building? Be ready to wait for a while because the line can get pretty long during travel season and holidays.
Make Traditional Osaka Food
Why not learn how to make takoyaki so you can enjoy it after you get back home from Japan? Osaka is just the place to acquire this important skill. Visit the Konamon museum, the place with the impossibly large billboard of an octopus out front, and enjoy free samples of takoyaki while learning to make the stuff yourself!
There is a small charge for the "sample tour" and short "cooking class," but it is well worth it. This activity is super-popular among Japanese as well as tourists, so try your best to go on a weekday rather than a weekend.
Go on a Shopping Spree in Shinsaibashi
Whatever you want to buy, chances are it is for sale at the Shotengai shopping complex that straddles the Ebisubashi Bridge from south to north. The place is packed with people on weekends and holidays, so try for an off-peak time to visit. In any case, the complex is a uniquely amazing experience with hundreds of cafes, bars, fashion stores, souvenir shops, and kiosks that sell virtually everything you can imagine. Shotengai is a good place to buy gifts for people back home.
Experience Hozenji-Yokocho's Historic Streets
The narrow alleyways and streets of this historic district are some of the most beautiful parts of Osaka, and really do impart a feeling of time travel back into the past. The shops and bars are perfect for an afternoon snack or small meal.
After that, head over to one of Japan's most famous temples, Hozenji, where you can dab a bit of water on the statue out front to have your secret wish granted. (Insider tourist tip: the Hozenji-Yokocho "old town" area is often noted as a favorite among travelers who have visited Japan multiple times. There's something special and authentic about the stone street and you really feel as if you're in old Osaka.
Get Your Culture Fix at the Ukiyo-e Museum
The ancient art prints of Kabuki performers are on display from the Edo era. They're breathtaking and one of the best things about a trip to Osaka. But even better: there are free classes in which you can learn to make your very own ukiyo-e print. One of the most endearing aspects of Osaka for visitors is the hands-on attitude of the locals, who are anxious to let you know what it feels like to "make your own" prints, food items, artworks, and even beer!
Travelers who have spent lots of time in Tokyo will certainly feel the different vibe that Osaka has, similar to the cultural difference between New York City and San Francisco, or between Moscow and St. Petersburg.
Discover "Triangle Park" in Amerikamura
One of Osaka's landmarks is Triangle Park, which is located within Amerikamura shopping complex. Most of the clothing stores are geared for youngish folks, but the main thing to experience the atmosphere, which is a cross between San Francisco hipster and Paris chic, but very, very young.
Japanese compare the place to Tokyo's Harajuku neighborhood. In Triangle Park, a meeting place in the middle of it all, you can do some world-class people-watching while you snack away on items like okonomiyaki and tuna-flavored ice cream (Don't worry, they have other flavors like vanilla and chocolate for the less adventuresome).
Mix, Mingle and Hobnob with Osaka People on the Street
Osaka has a reputation for being one of the friendliest cities in Japan. That's saying something grand in a country where everyone seems friendly to begin with. But it is so. Many people speak English in Osaka and even if they don't try out a few words of "Osake-ben" [Osaka dialect] while you attempt to strike up a conversation with a random person. Say "mo-ka-ree-makka," which is Osaka slang for "How's it going?"
Be ready for the common reply, also local slang, which is "Bochi, bochi." That literally means, "so-so," but Osakans use it to mean "I'm doing fine." One more Osaka slang tidbit: Instead of "arigato" for "thank you," say "Oh-kee-nee," Osaka slang for "Thanks." Any Westerner who uses these terms will instantly win huge kudos from the local Osakans, who will know you went to the trouble to learn some of their local dialects.
A list of "ten things" to do in Osaka should not limit your travels and explorations of this amazing, multi-cultural city. Osaka is much more than Dontonbori and the gaudy neon lights. Even beyond kuidaore cuisine, there's an infinite amount of culture, food, and fun to take in on a visit to one of Japan's most intriguing cities.
Oh, Osaka: Amazing Facts about the City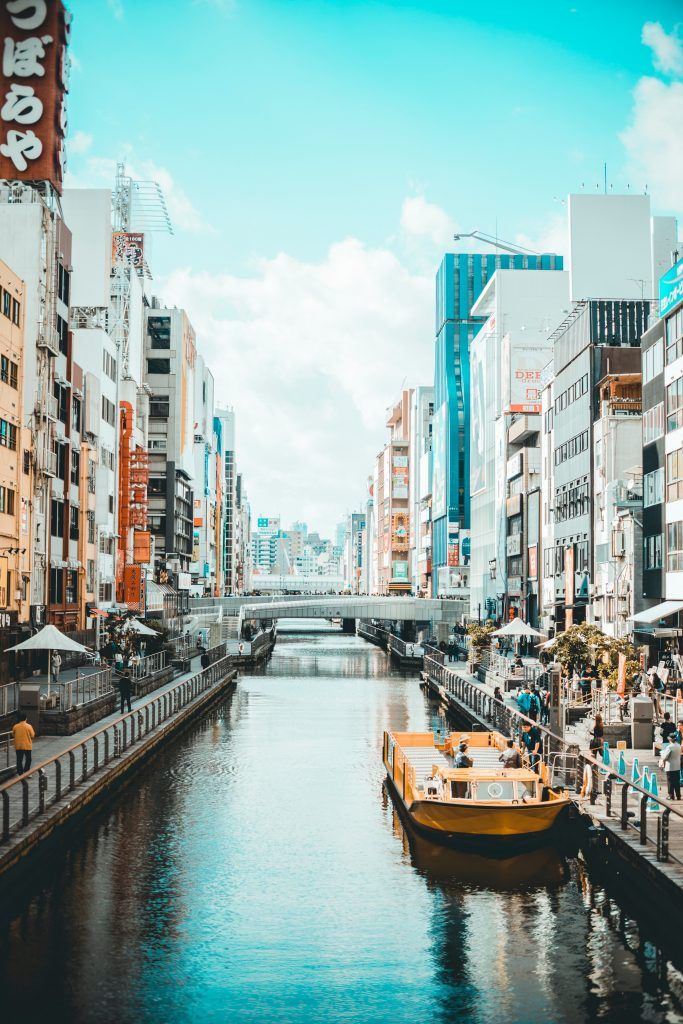 Dotonbori is just one part of the exciting city of Osaka. While the gaudy neon lights and terrific food culture of the district are sure to make a lasting impression on any visitor, the larger city, Osaka, is jam-packed with a wide variety of things to do and see. In fact, Osaka is sometimes called Japan's most interesting city. Here are some key facts that any traveler to Dotonbori should know about the city of Osaka:
What Does it Mean?
Because the city is surrounded by hills, with the west side looking directly into the Osaka Bay, the area came to be called "the large hill" or "the big slope" in ancient times. That translates into the Japanese word "Osaka."
Why "The City of Air?"
Back in the 1980s, city planners in Osaka have the idea of creating a unique skyline for the area. They wanted to build four giant towers that would somehow be interconnected by tunnels or tramways. What their final plan ended up being was the modern Umeda Sky Building, a 175-meter monster of a place that is actually a set of several interconnected towers, just as the original planners had envisioned. Today, the tower is the signature of Osaka's unique cityscape and is one of the most photographed buildings in all Asia.
It's "The Nation's Kitchen"?
In ancient times, Osaka was the center of the country's massive international rice trade. For as long as the city has existed, it has been closely connected with food and cooking, even though no one knows exactly how this tradition began. But it is a fact that can't be denied. Today, known for its most famous dish, okonomiyaki, Osaka is at the center of the nation's food culture, hence its nickname of "the nation's kitchen." The so-called "kuidaore" cuisine, which translates as "cuisine by which you can ruin yourself," has become something of a modern catchword that describes the Dotonbori district of Osaka due to the many fine restaurants and food shops.
Japan's Third-biggest City
Within the Kobe-Osaka-Kyoto triad of cities, Osaka is by far the largest, with a population of well over 2.6 million people in the metro area. Within the Kansai region, Osaka is the largest city. One of Japan's most famous landmarks is in the center of Osaka, the Osaka Castle. Unique among buildings of its kind, the "castle" is sometimes said to be the most recognizable landmark in all Japan.
It's an Economic Powerhouse
For reasons of culture and geography, Osaka has become one of Asia's most active trading sites. The city is situated amid multiple seaways and rivers and long ago became a natural trading center. People from all over the globe came into Japan by way of Osaka, and today that fact remains true. Osaka is one of the nation's economic centers and accounts for almost half of all international trade.
Osaka's Unique Arts
Along with Kabuki, Noh Theater, and Sumo, Osaka has several of its own unique art and culture traditions. It's Kabuki actors went their own way centuries ago and developed a form of the theater quite different from that in Tokyo and elsewhere. But Osaka alone created the thriving Bunraku puppet theater format that has survived, and thrived, to this day. Travelers to Japan often head to Osaka for the best Bunraku plays in existence. Other cities have copied the Osaka art form and come up with their own Bunraku tradition, but Osaka was the first to create this versatile, highly entertaining form of puppet theater.
Continuing its tradition of being a theater center of Japan and Asia, Osaka was the first city to host a Universal Studios complex outside the U.S. So, in addition to the city's colorful past as a center of its own style of Kabuki and the unique puppet plays, modern Osaka has another notch on its belt of firsts among Japanese cities.
It's One of Japan's Most Historically Important Cities
Osaka, throughout Japan's long, turbulent history, has served as the nation's capital on several different occasions. Long before Tokyo became the modern political center of the country, Osaka was given the job of being the capital city due to its geographic central location and its key place on the trading routes that enter and leave Japan.
Osaka Has Been Completely Rebuilt Since WWII
During WWII, Osaka was almost completely destroyed by bombing. Even Tokyo was not as hard hit as Osaka, a city that is wide open to air and sea attack from enemies. But the spirit and optimism of the city's residents could not be held back. Soon after the war, they began rebuilding their beloved town brick by brick, monument by monument. Today, modern Osaka stands as a glittering example of the perseverance and stamina of its people.
Nakanoshima Park is Surrealistically Beautiful
Osaka's famous Nakanoshima Park is sometimes called one of the world's "most beautiful places," and deservedly so. Nestled between the Dojima and Tosabori rivers, the park is full of scenic natural beauty. Green hills, glistening ponds, colorful trees, scenic walkways, and fresh air are just a few of the reasons that locals and tourists flock to Nakanoshima Park every day of the year. In addition to the opulent natural scenes, visitors can see the Osaka City Hall, the city's renowned Science Museum and much more.
"Friendly Town"
Among Japanese, the city of Osaka is known for being one of the friendliest spots in the nation, whose people are openly conversational, helpful and caring. It's also a place known for fantastic shopping that includes Dotonbori, gaudy neon lights, kuidaore food culture, and abundant hospitality. Visitors to Osaka always come away happier than they were before they arrived.