What is it like to travel to Japan's "ramen capital" and experience the many wonders of the world's best noodles? Those who have made the pilgrimage to Fukuoka, arguably the global headquarters for the best ramen in existence, report that the city's culinary wonders are truly endless. In addition to dozens of famous local delicacies, ramen is by far the food that has put Fukuoka on the map in modern times.
Why are Noodles So Important?
Next to sushi, a worldwide food sensation, ramen is the next best-known food to come out of Japan and makes major waves in the West. Some food experts say that while sushi is an acquired taste for some, and not always a favorite among children, ramen is a more universally prized dish.
Its noodles and the endless array of sauces and add-in foods are something anyone can enjoy. Plus, the stuff is easy to prepare, inexpensive and filling. What's not to like about ramen?
Yes, there are literally hundreds of different kinds of ramen, but one stands above all the rest: tonkotsu, a Fukuoka creation. The city, already a favorite of travelers from abroad and within Japan, has a new cultural magnet, its world-famous ramen shops.
Some of them are major international chains while others are one-store mom-and-pop shops that specialize in a particular style of noodle, sauce or combination of the two. Above all, Fukuoka is famous for being the home of tonkotsu ramen. That's why every visitor should put the capital of Kyushu Island, Fukuoka, on their Japan travel itinerary.
What is Tonkotsu Ramen?
Don't be confused by all the jargon; the ramen world is full of it. Tonkotsu ramen is a special type of dish that was made famous in Fukuoka. Japanese people, and recipe books, sometimes call it Kyushu ramen, Fukuoka ramen, Hakata ramen or tonkotsu ramen. All the naming confusion came about because Kyushu is the island that Fukuoka is the capital of.
Hakata is an ancient neighborhood in the center of Fukuoka City where ramen first became famous. And tonkotsu is the most popular type of ramen from that district. To make a long story short, you'll hear all four names for tonkotsu ramen if you travel to Japan or order from a Western ramen shop in New York, Los Angeles, London, Berlin, Milan or elsewhere.
The best tonkotsu takes quite a while to prepare. Pork bones are boiled for hours until they disintegrate. Add in some still hard in the middle ramen noodles, a few slices of pork and perhaps some decorative garnish, and you have a wonderful bowl of Hakata ramen just the way the locals in Fukuoka like it. Here's an easy way to remember the main ingredient: the words "pork bones" in Japanese are "tonkotsu."
Make Your Own Tonkotsu: Here's How
For do-it-yourself enthusiasts, you'll need to boil those pork bones for nearly eight hours. At that point, they begin to break down and make the water cloudy. For optimal flavor, and before adding the noodles, put in one or all of the following: ginger, pork fat, onion, garlic, black pepper. Prepare the ramen noodles separately.
These can be however thick you like them but the key is to leave them just a bit hard in the middle, what we call "al dente" in the West. Add the noodles to the broth, along with shoyu and a dab of chili bean paste. Top with sesame seeds to bring out the taste of the broth.
Where Did Ramen Come From?
Japanese like to say that ramen was born in Fukuoka, but that's only half the story. Long ago, Chinese travelers entered Japan through Fukuoka and brought all sorts of cultural practices and culinary delights with them. The most popular of these imports grew in popularity among the Japanese, and ramen noodles were among the most cherished of China's gifts.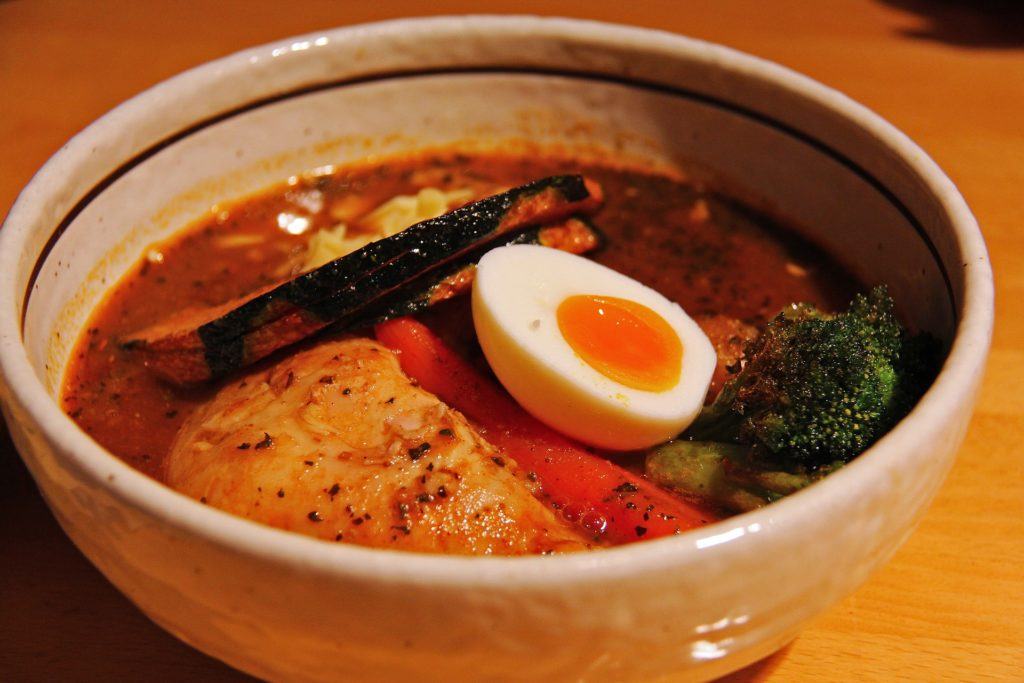 Ramen historians (yes, they do exist) note that the exact point where the famous noodle made its initial impression was in a tiny city called Kurume. The town sits a few miles south of its larger neighbor, Fukuoka, and featured the first known eating establishment to serve ramen.
After that, the dish flourished throughout Japan, with more than 300 variations, at least. Tonkotsu, for example, is served with meat, without, and sometimes with two or three kinds of meat. Some include soy sauce and some don't.
Within Japan, there is a good-natured but very serious rivalry among ramen enthusiasts, who take the art as seriously as Americans and Europeans do professional sports. Tokyo ramen fans prefer their homemade ramen dish known as "shio." Not to be outdone, Sapporo residents sing the praises of their local version, known as "miso ramen."
Ramen Districts in Fukuoka and Tokyo
Fukuoka is packed with famous and not-so-famous ramen restaurants, all of which serve up their own specialty or local variation of ramen dishes. A gigantic shopping center that is one of Fukuoka's best places to begin a "ramen journey" is called Canal City. It's a shopping center and on the fifth floor is an amazing place like no other on earth. The name of Canal City's fifth-floor attraction is "Ramen Stadium."
This incredible culinary expo includes dozens of small storefronts, booths, kiosks, and food stalls, all of which offer a different type of ramen. Show up hungry and taste-test as many varieties as your stomach will allow. Most of the restaurants let visitors buy very small "sample platters" for just a few hundred yen, which means you can get a full meal's worth of awesome ramen at a bargain price.
After spending a few hours at Ramen Stadium, do some sightseeing and when your stomach is ready for another round of ramen, head to the downtown Fukuoka area's two districts that are famous for ramen: Tenjin and Hakata. Hakata is said to be the area where ramen preparation originated in Japan. Hakata used to be the capital of the island but is now merely a district within Fukuoka.
In Hakata and Tenjin, there are hundreds of street stalls where special kinds of ramen are sold. Don't miss the evening walkway near the Nakasu River. Even if you don't want to eat ramen, it's a beautiful, serene place to take a stroll. But if you want to taste more of Japan's most renowned noodles, the many vendors along the riverbanks will be happy to oblige you.
For visitors to Tokyo, one of the best ramen chains has been in operation since 1946. It's called Akanoren and it has already built a worldwide following with branches in several other countries and a famous U.S. location in New York City. The Tokyo store is in Roppongi and is beloved for its low prices, family atmosphere, delicious dumplings and multiple varieties of ramen.
The store is a favorite among tourists, locals, and long-term foreign residents. A local joke is that you can go to Akanoren for a bowl of ramen and meet diplomats from all over the world, important Japanese executives, college students from everywhere and neighborhood families out for an evening meal.
The Best Ramen Restaurants in Fukuoka
Travelers in search of the creamy ramen that Fukuoka is known for, complete with bone broth, very thin noodles and tasty toppings, can take the above advice and head to Ramen Stadium, the Tenjin or Hakata districts, or even Akanoren in Tokyo.
Just wandering around is good enough for finding a decent ramen restaurant when in Fukuoka. But what are the best of the best ramen restaurants in the city that's famous for this delicious noodle dish? Here are some of the prime candidates, all in Fukuoka:
Shin Shin
A Fukuoka favorite for ramen lovers, this place specializes in simplicity. They boil their pork bones for eight hours, serve only tonkotsu ramen, and sometimes have very long lines of customers waiting at peak hours. The noodles are thin, the broth creamy and the price is reasonable. Ask for more pork or onions if you wish.
Kurume-Taiho
Local legend has it that this world-renowned ramen restaurant's broth pot has been in continuous operation, never having been left empty, since 1953. They offer an "original" tonkotsu ramen and a "spicy" alternate, which includes garlic. Both are to die for and will leave you with a desire to return to this place whenever you visit Japan. Kurume is a 50-minute train ride from Fukuoka but well worth the trip.
Menya Houten
Okay, this one is back in Ramen Stadium but has built a reputation apart from being in the city's huge ramen-a-rama mall. Menya Houten's house specialty is called shoyu ramen. Made with a base of authentic soy sauce and thin or thick noodles (your choice), the restaurant's shoyu is a favorite of local Japanese, who all tend to be ramen experts to some degree or another. In any case, Menya Houten is a low-cost choice for those in search of a great bowl of Fukuoka ramen.