Onsen natural spring baths are one of the best places to soak away your troubles. Japan is the world capital for the very best onsen experiences on earth. Relaxing the mind and body in a natural hot spring has been known to work wonders for all sorts of ailments, and some of the top onsen are located in Japanese inns, known as ryokans.
Some travelers in Japan prefer outdoor onsen spas, called "rotenburo" by the locals. With all the amazing scenery in Japan, it's no wonder that many people prefer to soak in the soothing waters while viewing the incredibly beautiful landscape.
In fact, each region of Japan has its own types of onsen spas, each with different mineral content and atmospheres. For example, the Hakone region is one of the most famous of all onsen locations and has numerous spas dating back hundreds of years. Some onsen have colored water, some are private, and there are dozens of choices when it comes to what the tubs are made from. Some are natural stone, while others are wood, plastic or metal.
There are single-gender spas and mixed gender ones, as well as massively large onsen and even tiny, private tubs for one. No matter your taste in natural hot spring bathing, Japan has it all. Here's a quick look at the best towns in the nation for onsen spas, the top spas to visit, and some amazing facts about Japanese onsen spas to consider while you soak in the warm, relaxing, natural waters.
Top Onsen Towns and Onsens for Super Relaxation
Hakone
Dating back more than 1,200 years, Hakone is, without doubt, the most respected town when it comes to onsen hot spring bathing. Foreign visitors and Japanese from all over the nation come to Hakone to spend holidays, making the city one of the world's top resort towns. Hakone is famous for many things, actually. It has awesome views of Mt. Fuji, is just an hour by train away from Tokyo, and the local scenery is nothing short of spectacular.
It's no wonder that business people from all walks of life seek out the onsen spas of Hakone to soothe their aches and pains and worries. There are dozens of ryokan hotels in Hakone, each with their own onsen spas. Visitors can choose from economy versions to the pricier ryokan experience. No matter which Hakone ryokan you choose, you're guaranteed an unforgettable onsen experience.
Oita, in Eastern Kyushu
There is no disputing the fact that Oita's town of Yufuin has carved out a reputation for itself as one of the premier onsen towns in Japan, rivaling even Hakone for stature in this competitive realm of resort getaways. From Fukuoka City, the town of Yufuin is just a short bus or train ride away.
The city itself looks like a picture postcard: its scenery is stunning as a result of the deep valley surrounded by high, stately mountains. Japanese people know Yufuin as one of the most respected cities for onsen bathing, especially the outdoor kind.
This is the place to soak away your troubles while viewing the lovely mountains and hillsides from the picturesque valley of Yufuin. The museums, shops and many cafes along the main road are welcoming to all visitors. This is, after all, a resort town that knows how to treat outsiders.
Whether you are from a nearby Japanese town or a distant nation, the local townspeople will welcome you with open arms. Any visitor to the area should not miss the opportunity to experience an authentic Yufuin outdoor onsen bath.
Kurokawa, in Kumamoto Prefecture
Nestled among the ancient forests in Kyushu is one of Japan's best onsen cities, Kurokawa. A special project of the national government has allowed the city to maintain its historic look and feel. Situated between two of the country's most beloved mountains, Aso and Kuju, the town has dozens of indoor and outdoor onsen, and is also known as a center for hiking and camping.
Tourists will find no giant hotels or skyscrapers in this historic city, a favorite of many Japanese people, but with more than two dozen reasonably-priced ryokan hotels, there's really something for every taste.
You can even buy a "triple-pass" for about 1,300 yen that lets you take your pick of any three outdoor onsen spas throughout a six-month period. There are English-language audio guides for many of the town's tourist adventures, and the people in Kurokawa genuinely go out of their way to make everyone feel at home.
Beppu, in Oita
Another Oita town known for its amazing onsen hot springs is Beppu, one of the nation's oldest onsen sites and situated in the scenic Beppu Bay. The nearby mountains are a wondrous sight to view as you soak in an outdoor onsen, though there are many indoor facilities as well.
In fact, the area is famous for several small regions that all offer onsen natural spring spas, including Kankaji, Hamawaki, and Myoban. Anyone who spends time in Kyushu should make their way to Beppu and see what it's like to relax in water that contains plenty of healing, natural minerals. Beppu has earned its reputation as one of the top ten onsen cities in Japan, and likely in the entire world.
Noboribetsu, in Hokkaido
Southwest of Sapporo is a small town called Noboribetsu, and it is one of Japan's most interesting onsen cities. Billed as the most beloved onsen location in Hokkaido, Noboribetsu is no doubt an incredible place for many reasons.
Its water temperatures range from hot to extremely hot, the city's springs push out more than ten thousand tons of water each day, and the minerals in the hot spring water are among the most varied and most healthful in the world.
For people who seek mineral therapy and alternative relief from aches and pains of all kinds, the waters of Noboribetsu contain salt, alkaline, iron, aluminum, sulfur, radium, melanterite, and more.
Japanese people who seek out particular minerals in their onsen water often head to Noboribetsu to enjoy the mineral-rich hot springs. The city is dotted with traditional ryokan hotels where visitors can choose from a variety of onsen types based on temperature and mineral content.
Kinosaki, in Hyogo Prefecture
Onsen enthusiasts who want a traditional city and unusual experience need look no further than Kinosaki. Situated in Hyogo Prefecture in central Japan, the city is home to several famous hot springs, some of which are housed in the ancient 3-story style buildings.
These wooden structures are unique in Japan, as is the city's historic feel and old-world charm. Japanese on holiday often escape the hustle bustle of the big city and head to Kinosaki for a taste of the past.
Relaxing in an authentic wooden building constructed especially for onsen relaxation and therapeutic mineral treatment is one way to soak away the stresses and tensions of everyday life.
Ibusuki, in Kagoshima
On Japan's southernmost point sits a small town that is world famous for its sand-steam baths, natural onsen hot spring baths, and opulent beauty. The small town of Ibusuki is so far south, in fact, that the locals speak their own quite different dialect of Japanese, known as Kagoshima-ben, or Kagoshima-dialect.
But the best part about the city's geographic location is its proximity to underground seismic activity that causes super-hot water to bubble up from numerous hot springs in the area. The town's resort atmosphere is well worth the hour train or bus ride from Kagoshima City.
Some say the sand-and-steam baths here are the only ones in the nation. Many thousands, perhaps millions, of Japanese have ventured to Ibusuki's sand baths and onsen hot spring spas for relief from a variety of ailments, but mostly to just enjoy deep, enduring relaxation and rejuvenation that comes from soaking in mineral-rich, hot water.
Dogo, in Matsuyama
The famous onsen spas of Dogo are among the oldest in the nation, and in the world. Dating back more than 3,000 years, the city's hot springs have been known for their healing powers since before recorded history.
Visitors usually make their way to the city's giant, three-story wooden building that houses its most prominent onsen spa. Known the world over for its mighty powers of relaxation, the city of Dogo has been carrying on the ancient tradition of natural healing and stress relief for more than 30 centuries.
An Excellent Resource
I found an excellent book, entitled "Japanese Spa: A Guide to Japan's Finest Ryokan and Onsen." It details the top onsen spas in Japan. It features more than two dozen of the top-rated ryokan and onsen all over the country, offering several from each region. Packed with lengthy descriptions of each spa and hundreds of color photos, this is probably the only book on the market that goes into such detail and gives tourists an idea if where to stay if they want to enjoy the complete ryokan/onsen experience.
Onsen Facts to Ponder While Soaking
While soaking away your aches and pains in one of Japan's famous onsen hot spring baths, consider these facts:
There are more than 3,000 different onsen spa locations in Japan due to the fact that the nation sits upon the Pacific Rim's so-called "ring of fire." Here, the earth's crust produces high-intensity volcanic pressures that cause water near the surface to become extremely hot, as they do in geysers. Fortunately, these waters are rich with healing minerals and are a natural way for people to treat themselves with both heat and mineral therapy just by soaking in the springs.
Many of Japan's ancient emperors have noted in their diaries that they regularly used onsen natural spas for healing and relaxation. In fact, one of the spas used by many ancient leaders and writers still exists in Shikoku. Famed Japanese writer Natsume Soseki used to write there when he was in the area. Hundreds of famous people from all over the world have soaked in the relaxing natural spring waters of Shikoku onsen baths.
In ancient times, Japanese hunters used to follow wounded animals to see where they went to heal themselves. This led to the discovery of hundreds of onsen hot springs. The animals apparently got some relief from their wounds by drinking the natural waters in those days. This is the reason that many modern onsen bath facilities feature drawings and statues of animals, primarily bears and various types of birds.
Several Japanese cities have based their entire economic health on their onsen springs. Regions like Hakone, Kinugawa, and Ikaho are just a few of the names that are familiar to locals. These onsen cities even have a special name in Japanese, onsengai, which loosely translates as "onsen city." In these areas, the local people make their living in the onsen industry, either as bath workers, owners or technicians. Other occupations support the vibrant tourist industry with the selling of souvenirs, food, and drink.
Tourists and locals sometimes choose "private onsen" baths. Depending on the location, there are opportunities to pay a little bit more and enjoy a totally private experience for one or two people. Along with a private room, your onsen is booked for you alone. Be sure to ask when you book a ryokan room whether the facility offers private onsen services.
There are mixed-gender onsen baths, but they're sort of hard to find and not very common. Just a few places in Japan are known to offer mixed-gender onsen, and even when they offer it, you can't just call and book one. Apparently, the service is only for repeat customers or those willing to pay a lot extra. In any case, most Japanese people prefer single-gender onsen by far. If you are a tourist who wants to book a mixed-gender onsen bath, you'll have to do some research and probably enlist the help of a Japanese-speaking friend.
Many onsen spas sell foods that are "cooked" or steamed in the natural spring waters. Eggs and steamed bean-paste buns are a favorite, as are many other delicacies, all of which are sold at or near the onsen spas where the foods were prepared. Tourists typically are surprised by this fact, but once they try the steamed buns or eggs, they change their mind about the "strangeness" of the process and become big fans of "onsen food."
Health Benefits of Onsen Baths
There's so much more to onsen hot springs than relaxation. Many people all over the world seek out natural springs for their therapeutic benefits. The minerals in the water are said to have many beneficial effects.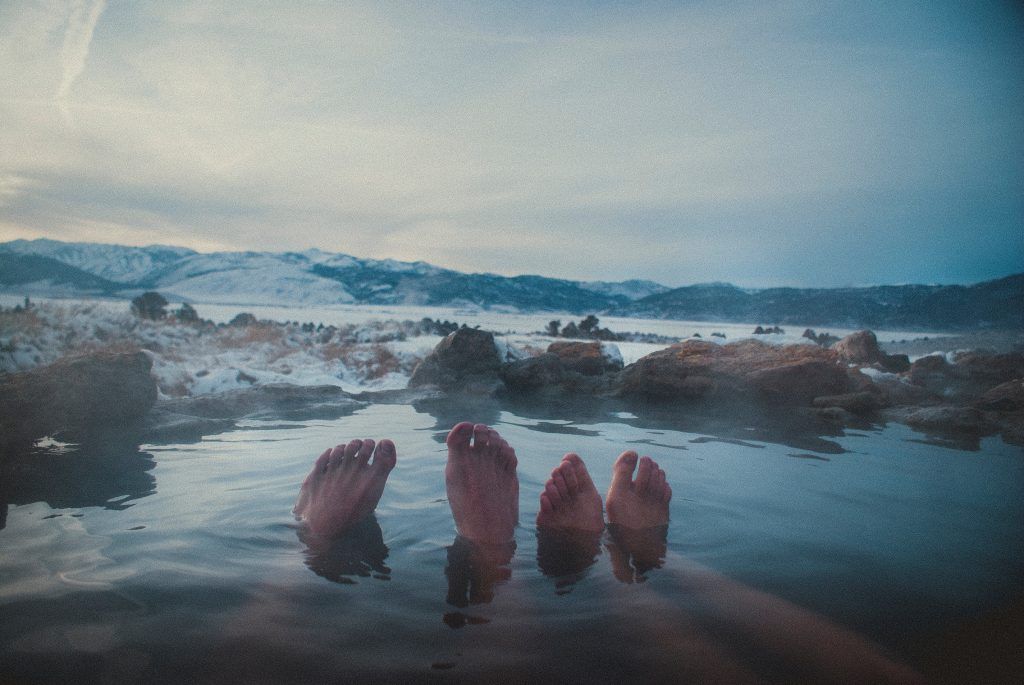 In Europe, Russia, the Mideast, and Asia, mineral-rich hot springs have been used by people for more than a thousand years as a way to acquire mental and physical health. There's even a branch of science devoted to the study of using hot water and minerals to heal the body; it's called balneology, which translates roughly as the "alleviation of ailments by bathing."
What are some of the most commonly cited benefits of soaking in a hot mineral-rich tub of water? No one can prove the claims, but it is interesting to hear what some enthusiasts say about the power of warm water combined with minerals.
Skin health: Spring waters often contain silica, a known substance that can possibly help people who have rough, dry skin. Silica is in most over-the-counter skin creams and even a few prescription ones. For many years, medical doctors have treated skin problems like psoriasis and eczema with sulfur. Onsen hot spring baths in Japan and elsewhere contain a high dose of sulfur, which might help alleviate a wide range of skin ailments.
Stress reduction: Many people mention "stress reduction" when asked why they seek out onsen hot baths. Indeed, warm water can quickly relax sore, tense muscles, having the same effect that a common massage does.
As a sleep aid: Some onsen hot bath enthusiasts have noticed that they are able to fall asleep faster after sitting in a mineral spring onsen. No one knows exactly why this might be so, but it could be related to the fact that the body's temperature goes up and the quickly falls after leaving the bath. The common response appears to be deeper, more rejuvenating sleep.
Circulation: Some studies have shown that onsen users absorb moderate doses of calcium and other substances, notably sodium bicarbonate while bathing in natural hot spring waters. Both of those things are thought to help with better blood circulation and a more resilient oxygen transport system in the human body.
Pain reduction: Heat has long been used by physicians and physical therapists to reduce pain on the spot. Anyone who has ever had a sore back or shoulder knows the power of a hot bath. Mineral baths like onsen hot springs are even better, apparently, because they contain beneficial minerals.
Becoming buoyant in a hot bath like an onsen is a good way to relieve stress from joints and bones, even temporarily. The longer-term effect can mean a better range of motion and a generally lower pain level all over the body.
Note: Never use a bath or any self-prescribed treatment for pain or illnesses. Always speak with your doctor or another health professional before beginning any type of therapeutic regimen. The above points about the possible benefits of onsen hot spring bathing are meant for information and educational purposes only, and should not be viewed as medical advice in any way.
Do the Right Thing
Be a polite tourist by following local customs while at a Japanese onsen. Read up on onsen etiquette and try to abide by all the "onsen etiquette" that is common among the Japanese. The primary thing to remember is that you need to clean yourself completely in the showering area before entering the hot water of the onsen. The water is clean and pure, which is why the Japanese are such sticklers for cleanliness when it comes to their onsen hot springs bath experience.
Keep in mind that you are a visitor in Japan, so there's even a higher standard you should strive to uphold. Not only are you representing your own country, but you should also be considerate of the people and their customs in a place where everyone, even children and old people, makes an effort to help you enjoy your stay in Japan.
Don't take advantage of the incredible hospitality of the Japanese people. They are some of the friendliest, most trusting, kindest, and considerate people in the world. Treat them with the respect that they offer to you, and your time in Japan will be memorable. You will no doubt make a few life-long friends.
Finally, don't splash about or speak in a loud voice while in the onsen baths. People are there to relax and just basically zone out most of the time, so make an effort to maintain a serene, quiet atmosphere. Above all, enjoy the wonderful onsen hot spring baths in Japan. There is nothing as relaxing as calming as the warm mineral waters from deep in the earth's crust.