Cherry Blossom Basics: What You Need to Know
When you travel to Japan during cherry blossom season, there are a few essential facts you'll need to know about. First, cherry blossoms, called "sakura" in Japanese, are the official national flower of the nation. They represent hope, renewal, and the spring season in general.
One of the central cultural traditions of Japan is having a picnic meal beneath a sakura tree while viewing the cherry blossoms. The activity is called hanami, which literally translates as "flower viewing." Several centuries old, the practice began as a leisure pastime among the wealthy classes and the imperial family.
During hanami season, the locals go all out, hanging lighted decorations and lanterns for late-evening outdoor meals. When the lanterns are hung in the cherry blossom trees, they light up the entire plant and emit a special kind of glow.
In politics, the cherry blossom represents the special relationship between the U.S. and Japan. More than 100 years ago, in 1912, the Japanese government sent several cherry blossom trees to the U.S. government as a gift. Those trees were planted in Washington, D.C., and have proliferated all over the city.
No one knows for sure, but it's believed that cherry blossom trees originated somewhere near the Himalaya mountain range in ancient times. From there, they were taken to Japan by travelers. Even though there are more than 200 different kinds of cherry blossom plants, the Japanese favor a variety called Somei Yoshino. Most trees live for about 40 years, but seasonal blossoming times only last for about one week per tree.
Anyone who plans to travel to Japan to see the cherry trees bloom needs to plan carefully. There are specific times that are best for travelers, certain places that are better than others, and a few other facts that tourists should know before traveling.
There are so many cherry blossom festivals in Japan, it would be impossible to attend every single one even if you lived to be 150 years old. So tourists should decide which festivals they want to focus on, and study up on the best places for viewing the blossoms. It's also wise to understand the history of cherry blossom festivals and decide on how to time your travel itinerary.
A Very Short History of Cherry Blossom Festivals
Known worldwide for their fragile and intriguing beauty, cherry blossoms are a central part of Japanese history and culture. In ancient times, Japanese farmers believed that the bloom times of cherry blossom trees foretold the rest of the season's food crop abundance. Scientists think there may have been some basis for this idea.
Later, the short bloom times of cherry blossoms came to represent the concept of impermanence for the Japanese, an idea that is at the center of both Shinto and Zen religious philosophies. Today, most native Japanese people think of renewal and hope, in general, when they look at a cherry blossom tree.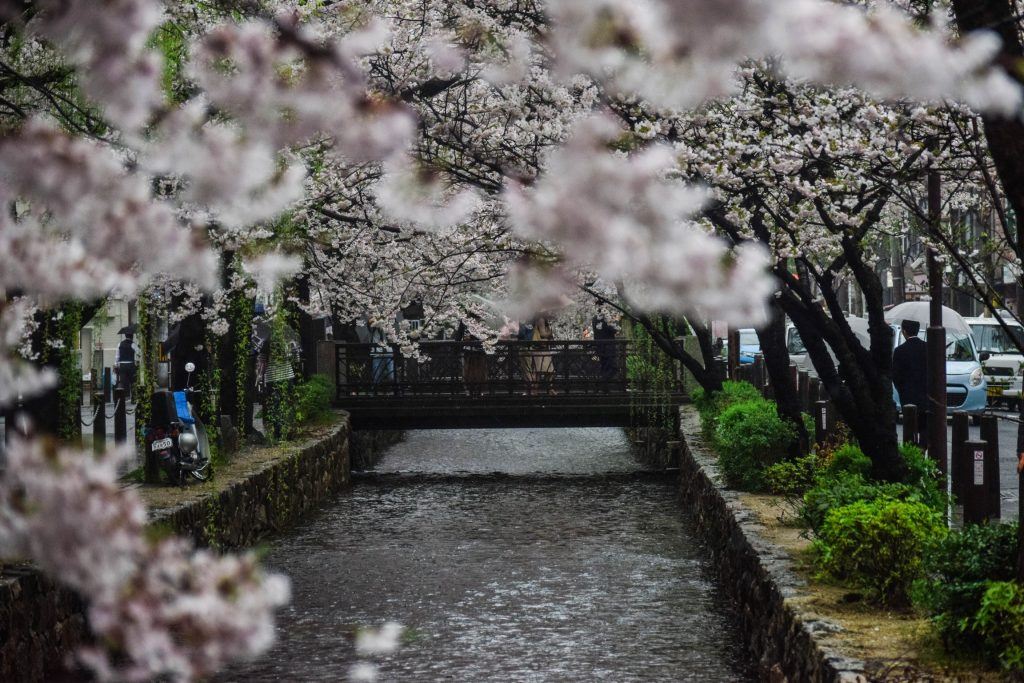 From March until early May, the sakura bloom for just one week, on average, per tree. It depends where you are in Japan, and what the seasonal weather is like, to know when the optimal time for viewing will be on any given year.
After just seven days of blooming, the pink and white flower petals fall from the trees and swirl through the air on their journey to the ground. To Japanese traditionalists, this is the most wonderful, gorgeous period in the life of the flower.
All over Japan, there are flower-watching events or "hanami." Travelers should make every effort to see Japan during spring and take part in at least one (or several) viewing parties. In many ways, these events are the very essence of Japanese culture because they combine history, philosophy, social customs, and human interaction.
Ask any travel agent: each year there are literally thousands of specialty tours and trips that focus on Japanese cherry blossom viewing. Millions of people from all over the world visit Japan to see the spectacular sight that has been captivating human beings for centuries.
A Visual Resource
I discovered a wonderful book that brings together a large collection of artistic versions of cherry blossoms. From the Smithsonian Museum's Asian collection, each image in the book represents a different historical view of cherry blossoms in Japanese history.
Along with the gorgeous images is a written explanation about why the trees have such a devoted following in Japan and how the simple, elegant cherry blossom has become such a deeply ensconced symbol of the nation's character.
The Best Cherry Blossom Festivals in Japan
Among the thousands of cherry blossom festivals each year, some of the best are the ones in Shinjuku Gyoen park in Tokyo, Hirosaki Park in Hirosaki, Mitsuiki Park in Yokohama, the Chureito Pagoda in the Fuji Five Lakes area, the Expo 70 Commemorative Park in Osaka, and at Mihara Takizakura in Fukushima.
The Ueno Cherry Blossom Festival as well as the Bokutei Festival in Tokyo are the top choices for those in the big city, as are the Chiyoda, Midtown and Nakameguro festivals.
Prime Locations for Viewing Sakura in Japan
The festivals are major events and draw large crowds every year. For travelers who want a more solitary experience, there are several famous places for cherry blossom viewing where you can go anytime during the blooming period, along or in a group.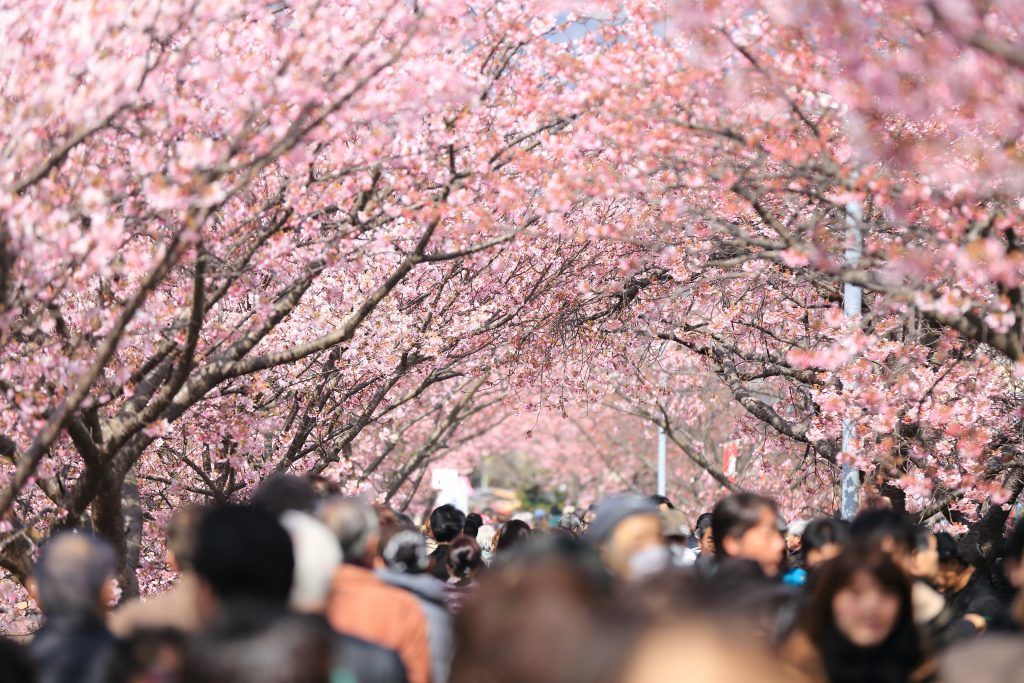 The following are some of the best-known places for people who want to take pictures, have a picnic, or simply view the blossoms in their natural state:
Mount Yoshino in Nara
Kawazu in Shizuoka
Matsumae Park in Hokkaido
Himeji Castle in Hyogo
Kema Sakuranomia Park in Osaka
Kakunodate in Akita
The Philosopher's Path in Kyoto
Hirosaki Castle Park in Aomori
Lake Kawaguchiko's Northern Shores
It's All in the Timing: Keep an Eye on the Calendar
Cherry blossom season starts as early as January for residents of Okinawa, while the Honshu region doesn't see the sakura season reach its height until late March or early April. Up farther north, in Hokkaido, May is the month for full blooming cherry blossoms.
The official announcement of each year's predicted bloom dates is a major event. Japan's national weather association, JWA, as well as a few other meteorological entities, try to announce the dates as soon as possible so travelers, both local and international, can plan their trips for blossom viewing.
For visitors to Tokyo and Kyoto, the best time to see the blossoms is from late March to very early April. The date changes from year to years based on local climatic conditions and weather variations. Each major region of the nation has its own cherry blossom viewing festivals.
Because the festival dates vary from region to region and year to year, travelers who have a specific festival in mind should do some research and find out when that particular event took place over the past ten or twenty years. Based on that data, you can plan a two-week vacation in Japan and almost certainly see the cherry blossoms at their peak.
What Happens at Cherry Blossom Festivals?
The sakura is the focal point of any cherry blossom festival, but tourists should know that there's really a lot more to do besides look at flowers. Japanese festival organizers make sure to pack each event with all sorts of traditional performances like tea ceremonies, folk singing, and instrumental performances.
There are plenty of authentic Japanese food vendors on hand as well. These festivals are the ideal places for tourists to purchase high-quality souvenirs and artworks to take home with them.
Japan Travel Tips for 2019
Traveling to Japan to view cherry blossoms while they're in season is the trip of a lifetime. But whenever you go, it's smart to remember some essential tips that will make life much easier.
In addition to the language barrier, tourists to Japan face cultural and other challenges. Know what to expect, and prepare for the most common situations, so that things go smoothly. Here are some key pieces of information for 2019 travel to Japan:
Use public transit like a pro
The Japanese in-country transit system is one of the most organized in the world. Still, it can get really confusing for first-time travelers because not all maps and signs are in Roman letters. There are places where you might have trouble getting an English-language map. That's why it's vitally important to obtain a map before traveling to Japan.
You can find lots of options online from transit map sellers and a good rail or bus map of any Japanese city shouldn't cost much. Because you'll be taking mass transit, especially trains, during your trip, an inexpensive map is actually an invaluable little piece of paper. Don't rely on a smartphone or online resources; many areas of the country have no Wi-Fi, so the old-fashioned paper maps are actually the best.
Minimize your daily expenses
Japan is an expensive country for tourists; that's no secret. But there are easy ways to minimize expenses while in Japan to see cherry blossoms or just for a regular vacation. Consider taking public transit, not taxi cabs, whenever possible.
All you need are a good map, a bit of preparation (familiarizing yourself with the map beforehand), and a sense of adventure. Tourists who use the trains and buses in Japan report huge savings compared to taking taxis everywhere.
For packaged meals, remember that local stores usually put all such fare on deep discount after about 7 pm each evening. The Japanese penchant for tossing out non-fresh food can work in your favor, and you'll no doubt see many locals purchasing discounted dinner boxes at grocery stores and kiosks. Taking advantage of the "after-dark discount" is one way to cut about 30 percent from your daily meal expenses.
Know the Wi-Fi situation
Unlike many U.S. and U.K. cities, Wi-Fi is not everywhere in Japan, even in the mega-metropolis of Tokyo. It's common for Japanese people to have their own wireless routers. That's not so practical for short-term tourists, so don't expect to be able to access the Internet everywhere you go.
Don't let the language become an obstacle
Google Translate is a powerful tool, but sometimes it just can't cut the mustard (imagine what it would have done with that figure of speech!). Besides the fact that Wi-Fi is sometimes impossible to find, online translations apps are not perfect, and often lack the human touch. Learn just four words of Japanese and you'll be way ahead of most travelers.
In any country, but particularly in Japan, greetings are of paramount importance, as is the ability to say how much you liked the food you just ate. Learn to say, "Delicious!" "Thank you," "Hello," and "Excuse me," and you will gain the respect of the locals.
Phonetically spelled, "Delicious!" is oy-shee, rhymes with "boy" and "see." Japanese words have almost no emphasized syllables, so say each part with the same voice.
"Hello" is ko-nee-chee-wah, to rhyme with "go" and "knee" and "bee" and "hah."
"Excuse me" is soo-mee-mah-sen, to rhyme with "Boo" and "me" and "hah" and "den."
"Thank you" is ah-ree-gah-to, to rhyme with "hah" and "see" and "hah" and "sew."
In Tokyo, Yokohama, Osaka, and Kyoto, many city folks are familiar with basic English, but it helps if you write down what you are saying. Why is this? Japanese schools teach written English as a compulsory subject. That means many locals will understand your meaning if you write things down rather than speak them.
Don't be shocked if you see a Japanese person, who is unable to speak any English, reading an English language newspaper. It's just one of those uniquely Japanese situations that exist nowhere else and makes the trip more interesting.
Learn basic customs
Japanese customs are unique in many ways. Tourists who learn a few essential behaviors will make a very good impression on the locals. Besides, it's polite to make an effort to adapt. Keep a few rules in mind and you'll do fine: When you meet someone, thank someone, or say goodbye, bow ever so slightly at the waist.
Avoid wearing outfits that are either completely black or completely white. When you use an escalator, stay on the left side if you prefer to stand. If you want to move, use the right "lane."
Try to avoid putting hands in your pockets unless it's to retrieve something, and keep in mind that it's a no-no to cross legs or arms while conversing with someone. Never speak loudly, talk on the phone or play loud music while on public transportation. At formal meals, it's expected that you will eat every item on your plate. Finally, when possible, cover all visible tattoos.
Get the right documentation
Whatever country you're traveling from, make certain to get the right documents well ahead of time. Depending on where you're from, you might not need a visa to enter Japan, but the laws pertaining to passports and visas change from time to time. The Japanese are sticklers for paperwork and abiding by the rules, so be sure to double-check with your agent or travel bureau before you depart.
Make an itinerary
There is just too much to do in Japan, but that's a good thing! The only downside is that travelers absolutely must make an itinerary. Otherwise, you'll probably end up trying to do too much, miss out on key events, or become overwhelmed after arrival. Do your homework before going to Japan.
Know the five or six things you must do, the several places you must see, and remember to leave at least one day for wandering around with no special plans. Those "break" days are perfect for taking a stroll through residential neighborhoods, exploring tiny restaurants, or chatting with an English-speaking student or businessperson you meet somewhere.
Consider hiring a guide
Daily guides are relatively inexpensive and serve as translators and local information resources. You needn't have a guide every day, but consider using one on nights out when it will help to have someone translate at a cultural event, special restaurant, or sporting competition. Many travelers use guides to find out where the best local eateries and bars are, and to learn about unpublished discounts to kabuki, Noh drama, Sumo wrestling and cherry blossom viewing events.
Driving, earthquakes, and micro-hotels
Don't expect to be driving in Japan unless you have the proper international license. Buses, trains, and taxis will get you wherever you need to go. And don't be surprised if you feel a few minor earthquakes. Travelers are often spooked by quakes, but the Japanese take them in stride. The island nation is actually atop a deep-sea mountain range that experiences non-dangerous earthquakes often.
Another feature of Japan, Tokyo in particular, that surprises tourists are the pod hotel. These tiny rooms stacked one on top of another are all the rage in the big cities and cost much less for a night's stay than the regular hotels. Think about staying in a pod, or micro, hotel at least one night during your trip.
Get a complete weather report before traveling
While still at home, be sure to go online and check out the weather for each day of your Japan trip, and for each area where you'll be traveling. Because of Japan's location and geography, the weather changes frequently and "seasonal averages" are not as good of a guide as they are in other, more land-locked nations.
Even after you draw up a day-by-day, region-by-region weather report for your trip, continue to update it as often as possible and be sure to pack for a wide variety of weather situations. It's better to over-pack a little bit than to be forced to spend on additional wardrobe while in Japan.
The Memories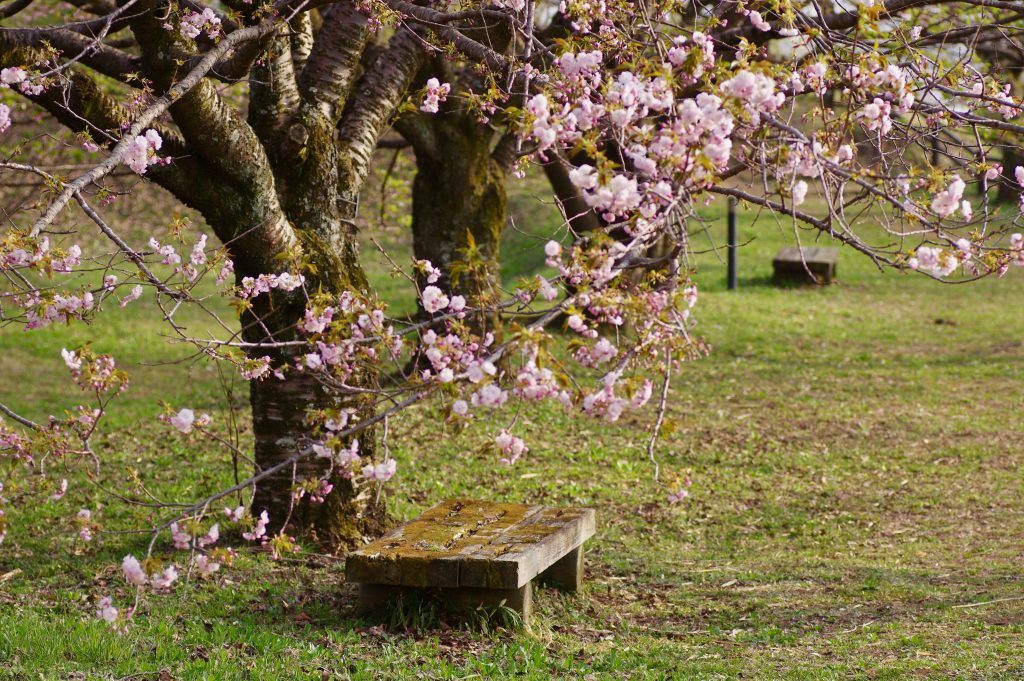 The memories of a trip to Japan last a lifetime. When you plan your trip around a cherry blossom festival or viewing, it's even more special. Visiting Japan during sakura season lets visitors witness one of nature's most scenic and breathtaking sights. It is also the perfect way to take part in an important aspect of ancient Japanese culture, up close and in person. If possible, plan your visit to Japan during cherry blossom season. You'll be glad you did.