Winter Illumination: What's It All About?
Looking for an effective way to make your winter in Japan a memorable one? Take an "off-season" trip and enjoy the incredible winter illuminations. Many tourists and even a few Japanophiles don't know about this amazing new cultural phenomenon that has sprung up in the last couple of decades.
It's all about lights, millions of lights, and maybe even billions of them if we could get an accurate count. Nearly every city, small and large, in Japan puts on some kind of light display. They're generally called "winter illumination" but you'll hear all sorts of names like "Christmas lights," "winter shows," "electronic displays" and every other combination of the words winter, lights, illumination, and electronic art.
The Japanese view these displays as a wise way to banish the winter blues. From late fall until the New Year arrives, thousands of cities and retail centers put up gazillions of lighting displays that will absolutely stun your visual senses if you've never seen them before. As with most all things related to technology, the Japanese have their own special twist on a particular theme, this one being Christmas or Holiday festive lights.
From the breathtaking Roppongi Hills lights in Tokyo to the UNESCO world heritage site of Shirakawago in Gifu Prefecture, and from Hokkaido's Snow Festival in Sapporo to Kyoto's more traditional light and flower shows, Japan is awash in electronic beauty from late August until February.
Want to see the best of the best? Here are the winter illumination venues you should put on your list of winter destinations during your trip to Japan. We've built a list so that you can find several winter illumination displays no matter what part of Japan you're headed to, so break out those travel calendars and get ready to add some "must-see" notes on your open days.
The Very Best Winter Illumination Destinations for 2019/2020
Place and dates:
Toyama City in Toyama Prefecture, from the first week of December to Feb. 14
Activities:
The "Snowpiad" white light display in this western city stretches for a full kilometer, with Toyama rail station on one end and the Joushi Odori on the other. Boasting more than 125,000 light bulbs, this is the ideal place to take group or individual photos and then visit the nearby Toyama Castle and the giant snow crystal. Toyama is a quaint, friendly city that few tourists visit, so you won't run into massive crowds at this location.
Place and dates:
Koiwai in Iwate Prefecture, from Nov. 23 until mid-January
Activities:
The Koiwai Farm is the place to be for this spectacular display of lights, said to be the biggest and most opulent in the entire Tohoku area. The massive property is a working dairy farm, and has built a reputation for high-quality products among Japanese gourmets. The hosts serve hot chocolate and milk made with 100 percent natural ingredients right from the farm! There's also hot soup on the menu to warm you up while you feast your eyes on more than 1.2 million lights. A special treat for Saturday visitors includes a raucous fireworks show.
Place and dates:
Towada City in Aomori Prefecture, from Dec. 7 to late February
Activities:
The city's famed art center is where the action is. Boasting a "carpet" of more than 2.5 million LED lights, it's the ideal place to relax and view the calming blues and other deep, indescribable colors of the huge display. Locals and visitors stroll along the walkway while sipping on a warm cocktail or hot chocolate. The local pubs and restaurants that line the avenue sell special winter treats like "snow-flavored" beer, "ice cream scotch on the rocks," and dozens of other clever inventions for seasonal fun.
Place and dates:
The Rohm Illumination in Kyoto runs from late November until late December
Activities:
This is the historic city's biggest and brassiest winter light extravaganza that locals call "the circus of illumination." Its bulb count numbers nearly 900,000 units. The lights are primarily draped near the Rohm building. Through the entire promenade area, where people walk and chat while viewing the impressive Crystal Garden," you'll hear all varieties of live performance shows, including street musicians, jugglers, choirs and acrobats. This is a major event in Kyoto each year and draws people from all over Japan.
Place and dates:
In Tokyo, there are dozens of major illumination shows that highlight the wonders of winter in Japan. Here are three of the best:
The Caretta Shiodome from Nov. 15 to Feb. 4
Shinjuku's Illumination Show from early November to mid-February
Marunouchi Light Show from Nov. 8 to Feb. 17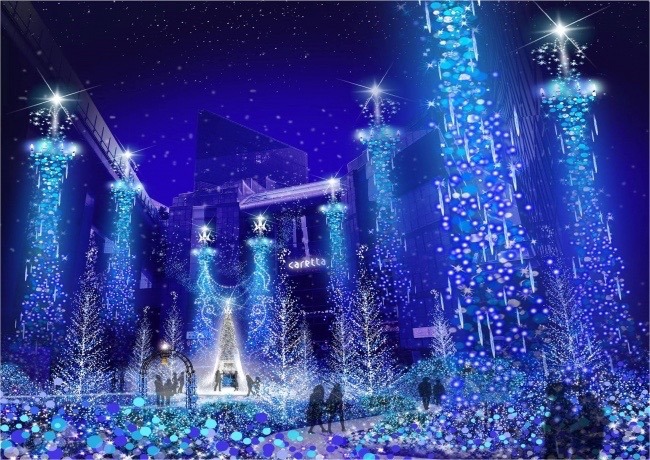 Activities:
To get a big city feel for winter in Japan, try the Marunouchi show and be sure to walk down Nakadori avenue for the most decorative light exhibits. In Shinjuku, you'll find traditional Christmas trees, buildings, walkways, shrubs, and even park benches draped in multicolored lights by the hundreds of thousands. Finally, the Caretta Shiodome is a themed display of LED lights that create a virtual reality Christmas village complete with dancing figures and electronic snowfall. All of Tokyo's winter illumination shows are technically sophisticated and show off the neighborhoods' friendly spirit of competition to put on the finest show of what it means to experience winter in Japan.
Place and dates:
Sapporo City in Hokkaido, from late November until mid-March
Activities:
Sapporo is "the" winter city in Japan because of its location in the north and the city's long tradition of celebrating the winter season with panache. The hardy locals have no problem spending long hours in the cold in order to see every light in the show. With more than 750,000 lights, the event is one of the best in Japan. There's so much else to do in Sapporo that winter fun in the city never seems to end.
Place and dates:
The Sendai "Pageant of Starlight" in Miyagi Prefecture, from mid-December until Dec. 31
Activities:
Between the city's two main streets, Aoba and Jozen-ji, the creators of this phenomenal display have built a lighted tunnel suspended between nearly 200 large trees on either side of the avenue. Two nights before Christmas there's a huge street show featuring reindeer and a Santa parade that is the central event of the winter illumination event.
Place and dates:
The Kobe Luminarie in Kobe runs from Dec. 2 to Dec. 11
Activities:
This is one of Japan's longest-running winter light extravaganzas and has always been dedicated to the memory of the victims of the 1995 earthquake in Hanshin. Like all attractions in Kobe, one of the nation's prime destinations for local and international tourists, the light show is expertly done, artistic and unforgettable. The fun starts at Motomachi rail station and extends outward for several kilometers from there.
Place and dates:
There are two major shows in Osaka that are worth attending: the Midosuji illumination and the Hikari Renaissance event. The first runs from Nov. 4 until Dec. 31, while the Hikari illumination is open for just 11 days, from Dec. 14 until Christmas day.
Activities:
Midosuji's three kilometers of densely packed winter lights have earned it the honor of being one of the world's longest lighted streets. The Hikari event shows off some of Osaka's oldest buildings. The food kiosks feature specialties of the season and local artists display their wares out on the street. Everything seems to combine for a wondrous old-world Christmas atmosphere.
Place and dates:
The Nagoya Winter Light Show just outside the city, from mid-October until the end of March
Activities:
One of Japan's biggest and longest-running shows, the Nagoya "nabana no sato" lasts for four-and-a-half months. Featuring in excess of 8 million lights, the LED-lighted event is one of a kind. In fact, the workers who set up the display spend more than 16 weeks getting everything in place. The locals are proud of their show and have built up a loyal following of repeat visitors from Japan and abroad.
Keep in mind that many visitors who spend winter in Japan visit multiple illuminations shows, as do the locals. If you're in a large city, it's possible to visit as many as 10 or 20 events within a two-week vacation. Tourists who do the Osaka-Tokyo-Kyoto circuit (a common one for first-time visitors to Japan) will have no difficulty taking in a different winter light display each night of their stay.
There's Plenty to do During Winter in Japan
There is not only plenty to do in Japan during the cold months, but the advantages for winter travelers are also numerous. The biggie, of course, is the lack of crowds. By far, the huge masses of tourists descend on Japan during the spring and summer months, and not just for cherry blossom season. The warm months are traditional travel times for people all over the world.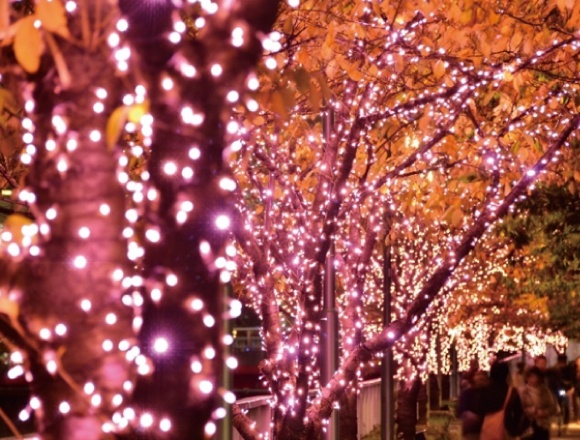 No crowds: But tourists in Japan will first notice the lack of crowds. If you don't like standing in line, are allergic to packed subway trains, and like to hit all the tourist spots without having to dodge throngs of people, winter vacation in Japan is for you. It's also a great time to see what the country looks like with a bit of snow on the ground. This is picture-postcard scenery we're talking about, the kind of stuff photographers travel thousands of miles to see first-hand.
Fantastic winter sports: Whatever type of winter sports you enjoy, Japan has lots of it. The country's geography seems specially made for skiing, snowboarding, ice skating, and other frigid weather favorites. Twice the hosts of the Winter Olympics, the Japanese know their stuff when it comes to ski resorts. So, if you are even a dabbler in the snow sports, bring your board or skis or whatever you need, and get ready for some world class winter fun.
Crane-mating season: Bird-watchers from points near and far head to Hokkaido's Tsurui area to watch the red-crown cranes during the mating season. Nature lovers have made this epic event one of the most photographed natural happenings on earth, and for good reason.
The cranes are majestic, beautifully colored, and put on quite a show for spectators with an intricate dance to attract mates. Many Japanese have a trip to Hokkaido to see crane mating on their personal bucket lists, and millions of locals and tourists head to Tsurui each winter to the special sanctuary called Tsurui-ito Tancho to see this magnificent wonder take place.
Sapporo's Snow Festival: It only happens once a year during the winter, and you might run into crowds at this winter event, but the world's most famous snow festival is worth the trouble.
Remember to book rooms as far in advance as possible, and get ready to have tons of outdoor fun. The festival features gigantic ice sculptures of dinosaurs, the pyramids, the Eiffel Tower, and other iconic global landmarks. There are sleigh rides, sledding races, special tours of local restaurants and bars, skiing events and much more.
Outdoor natural hot spring baths: Wherever you are during your winter trip to Japan, check out the local onsen hot spring spa baths. Some are set up outside, called "rotenburo," and offer the wonderful opportunity to sit in a steaming, relaxing natural spring bath while surrounded by icy outdoor air and maybe even a snowflake or two.
There's nothing more soothing than a natural onsen bath in one of Japan's hot spring locations, and fortunately they're everywhere you are likely to go during your travels. Check the local maps and see where a few onsen spas are located nearest your hotel, and get ready to enjoy the Japanese winter while soaking away your aching muscles (tired from walking and doing tourist things, no doubt).
Very special places: Winter time can be scenic in a place like Japan. Perhaps there's no better example than the picturesque village in Gifu Prefecture called Shirakawago Village, with its winter snows and old-world village feel. The UNESCO world heritage site is a fun place to visit any day of the year, but when winter snows fall, there's a special elegance and historic charm that envelops the city. Some repeat tourists to Japan fall in love with Shirakawago Village and make it their home base on subsequent trips.
Ice skating and Sumo: The Japanese are avid ice skaters. No matter where you stay you're likely to have access to some world-class skating rinks. Tokyo is home to about a half-dozen major outdoor rinks that cater to couples, families, and travelers who would rather skate than ski.
Sumo enthusiasts head to Tokyo each year in mid-January for the opening of the Grand Tournament. Sumo is gaining a huge following worldwide, and this event is becoming more and more popular each year. Book seats in advance and enjoy the fun.
If you've never been to a sumo match, you're in for a very, very memorable time. Likewise, if you're already a fan and have seen a few matches, then you'll be anxious to see the world's best wrestlers duke it out for tournament points in Japan's ancient, beloved national sport.
Cherry blossoms in winter: That's right. As long as you are willing to head to Shizuoka Prefecture's city of Kawazu in early February, you'll be able to see Japan's first cherry blossoms in bloom.
Keep in mind that there'll be lots of Japanese people there from all over the country, so you won't exactly be alone! But these first cherry blossoms are among the most popular in all Japan because they not only bloom first, but they last much longer than others, up to a full month.
What is Japan's Winter Weather Like?
The short answer to the question, "What is winter like in Japan?" is this: It's not as severely cold or snowy as many other places. But travelers should remember that the areas along the coast of the Sea of Japan and all over the northern island of Hokkaido receive plenty of snow and can be quite frigid. They don't call the northern mountains the "Japan Alps" for nothing.
On the other hand, most of mainland Japan sees temperatures that average in the 1-degree to 5-degrees Centigrade range (33-41 F). Most of the mainland regions do have at least a few days with snow on the ground, with dry, clear and generally tolerable conditions.
Tokyo seldom receives snowfall but when it does, the flakes melt almost immediately. Tourists who pack ski jackets and/or substantial winter apparel are usually well prepared. For those who venture north, especially to Hokkaido, be prepared for a more "traditional" winter, with much colder temperatures and possibly lots of snow.
Before You Go
If you plan to travel to Japan during the winter illumination season, there are a few things to do ahead of time that will make your trip much more pleasant. Winter in Japan can be a magical, enchanting experience for tourists who do a little pre-trip planning.
Practice makes perfect: Practice with your camera, whether it's the one on your phone or a stand-alone digital model, to make sure you know how to best photograph night-time lights. Street lights and any type of digital, lighted billboards make good trial subjects.
The reason for this "dress rehearsal" is that many people aren't skilled with photographing evening lights. The more adept you are with this skill, the better you'll be able to capture the elaborate light displays when you are finally in Japan during the winter illumination season.
Ask a friend: If you have a Japanese friend already in the country, be sure to tell them about your itinerary. The winter in Japan light shows change quite often, new venues are added, and occasionally smaller ones are canceled for various logistical reasons. Locals know the lay of the land when it comes to winter illumination, so always ask a Japanese person about the latest news relating to winter light venues.
Plan for winter fun: Remember that a winter trip to Japan is totally different from a warm-weather one. Plan your November, December or January travel with cold temperatures in mind. Japan's winters aren't harsh unless you're in Hokkaido, but the evenings during winter months can get quite cold. So always pack some substantial coats, gloves, and hats.
Also, even though you won't be seeing any cherry blossoms, the advantage of a winter trip can include crane watching, skiing, visiting onsen natural hot springs baths, and of course the winter illuminations. Winter in Japan can be just as much fun as any other season, but you have to educate yourself about the possibilities and know where to go. For example, some of the southern regions like Kagoshima City can be especially wonderful travel destinations during the cold months.
The budget for souvenirs: Set aside a little extra spending money for some of the interesting and unique gifts you can buy at the illumination venues. In addition to the standard shirts and hats emblazoned with "I saw the lights and experienced winter in Japan," in multiple languages, there are all sorts of really cool items for sale. Big favorites for tourists include electric hats that are decorated in tiny multicolored lights, powered by wristwatch batteries.
But the gift kiosks offer a seemingly endless array of other lighted gizmos too, like key chains, shirts, stuffed animals, slippers, and scarves. Everything is lighted and powered by batteries or tiny solar rechargers. The "illumination market" in Japan is huge, and you'll likely be able to find several things that make ideal gifts for folks back home (and yourself).
The winter illuminations in Japan are a part of the country's new cultural landscape and fast becoming a central part of any winter trip to Asia's most popular tourist destination. So, plan ahead, know what events you intend to take part in, get a bit of helpful advice from a local contact, and save some luggage space for gifts. You'll never forget your winter trip to Japan.