First Things First
Japan's "final frontier," Hokkaido is one of the only places in the entire country to see huge swaths of open land, untouched forests, and massive horizons that show no signs of civilization. Only about 6 percent of the Japanese population lives on Hokkaido, the nation's second-largest island. For visitors who venture to the island, the rewards can be wondrously great and include a chance to meet Japan's indigenous residents, the Ainu.
Winter sports and activities of all kinds are part of the Hokkaido culture, including skiing, bear-watching, sledding, ice festivals, hiking, and whale-watching. The area offers travelers a glimpse of Japan's "north country," a far cry from the crowded cities to the south like Tokyo, Osaka, and Kyoto.
Best known as Japan's "capital" for amazing national parks, beautiful volcanoes, and its spectacular scenery, Hokkaido is the ideal place to get away from it all. Before traveling to this nature-lovers' paradise, it is wise to do a little bit of research about the area to maximize your enjoyment. Most everything you need to know is below, included in the list of things you need to know before visiting Hokkaido:
Know These Things before Traveling to Hokkaido
Packing smart and getting there: Sapporo's Chitose international airport is the main entry point for most visitors to Hokkaido, Japan's biggest prefecture. If you're already in Japan and flying out from Tokyo, be sure to book early because the Tokyo-to-Hokkaido route is one of the busiest on earth.
Pack for the cold and plan to dress in layers on most days of your trip. Even in the warmer months, evening temperatures can get quite cool so it helps to be ready for anything, especially if the winds kick up and you're on a side-trip to a high-elevation area.
Expect to see volcanoes, lots of them: No need to worry. Even though at least six are active, the steam-show is a huge tourist draw and people from all over the world come to see Usu, Tarumae, Meakan, Mount Koma, Showa-shinzan and Tokachi. The most recent eruption was in 2000 when Usu made some noise and eventually erupted.
Skiing: If you plan to ski, you came to the right place. Hokkaido is one of the world's most scenic and active ski areas, primarily near the city of Sapporo. Experienced skiers often mention the city of Niseko as one of the finest ski locations on earth.
Happy campers: Some visitors overlook the fact that Hokkaido is one of the world's best spots to go camping. Asarigawa is one of the top destinations for Japanese and tourists who want to enjoy the great outdoors while camping. Shiroishi Park is another key spot, with its incredible mountainsides, relaxing hot springs and crystal clear night skies.
Learn a few words of Japanese: This is an important but often neglected task for many travelers. Knowing just a dozen or so key phrases and perhaps 50 of the most commonly used words for travelers can turn a good trip into a great one. Actually, it's nearly impossible to not have a great time in Hokkaido, but the experience is much more rewarding if you can use basic words like "money," "restroom," "change," "price," and "train station."
A couple hours' of online studying is all it takes to learn the basics of Japanese, a language with very simple grammar (there are no word "genders," only two irregular verbs, and two tenses. Don't rely on your phone's translation app as the sole means of communication. The locals will respect the fact that you took time to learn a bit of their language, so log a few hours of study time and make your trip that much better.
Onsen: The Japanese term for hot springs, "onsen," is a good word to learn. Simply ask any local person in any city and they'll be happy to point you to that area's hot spring, where you can rest your bones and rejuvenate tired muscles. Nearly every public hotel has its own hot spring access, so be ready to enjoy this Hokkaido favorite.
If traveling in February, don't miss the Sapporo Snow Festival: Some people consider this the most beloved festival in the world and it is one of the biggest winter social events in the nation. There are hundreds of ice sculptures, statues made of snow and other artistic works on display, all with a snow-and-ice theme.
Know how important sweets are in the local culture: Hokkaido is famous for its sweet snacks, and millions of pounds of them are exported each year all over the world. For travelers, it's a good idea to try as many different kinds as possible and bring favorites back as souvenirs. They're much cheaper in Hokkaido than elsewhere, even if you have to pay a duty on them when you leave.
If possible, make a trip to the world-renowned store, Ana Festa, the island's major purveyor of all things sweet and delicious. Typical favorites, and massive sources of export-based income for Hokkaido include all chocolates with the "Royce" name, Jaga Pokkuru, and Shiroi Koibito. Stock up on these three and you'll have plenty of wonderful things to give to your friends after returning home.
Try to visit Furano: See the incredible fields of flowers like lavender, poppies, roses, lilies, and sunflowers. Several of the local farmers offer tractor rides so visitors can see all the beauty at close range.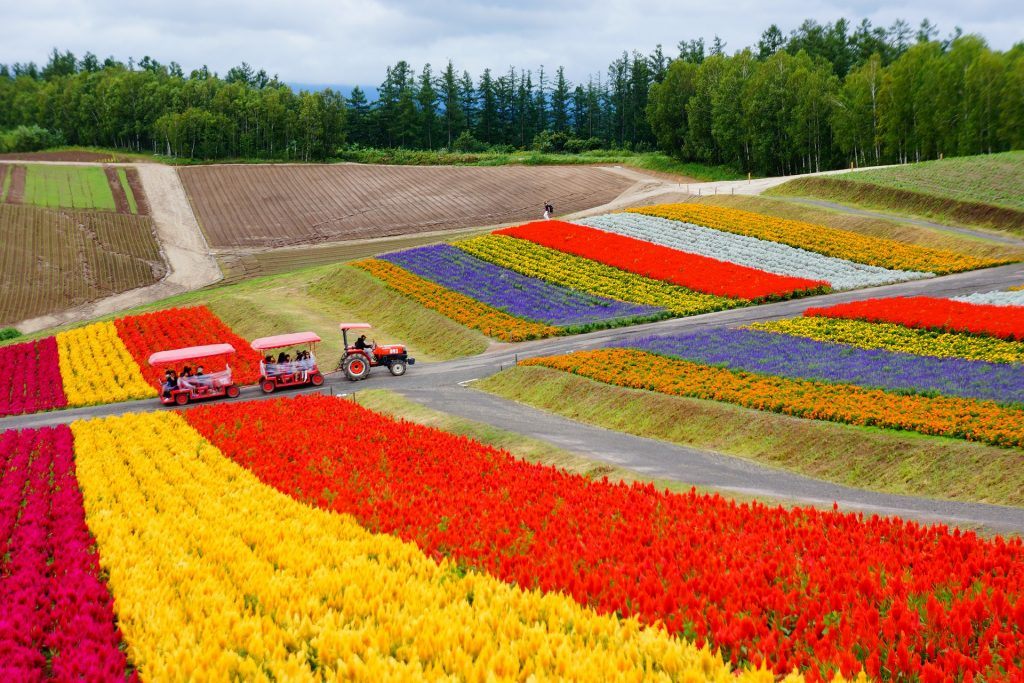 Plan a trip to Moerenuma Park: This is one of the "jewels of Japan," known for its gorgeous fountains, unusual buildings, and sculptures. Anyone who appreciates art, design, or architecture will fall in love with this place, designed by Isamu Noguchi. It's free, open from 7 a.m. until 7 p.m. most days and is located in Higashi Ward.
July travelers should see the Leonard Bernstein-inspired music festival in Sapporo: Each July, the city of Sapporo plays host to one of the world's most loved music events, the Pacific Music Festival. The classical era pieces are a favorite with attendees and many Hokkaido tourists list this event as the high point of their trip.
Be ready to hike: Hokkaido is the hiking capital of the world for good reason. It has no rainy season, rarely gets intense heat and has some of the most beautiful forests, mountainsides, and hiking trails in existence.
Bring some good binoculars: There are multiple reasons for this suggestion, but the main one has to do with a very rare bird called the Manchurian crane. Also known as the red-crowned crane, it is the official bird of Hokkaido, and you'll likely not see one anywhere else. An ancient symbol of good luck (the Japanese believe that just seeing one can change your life!), these huge, majestic East Asian birds are extremely rare.
Plan a trip to the famous clock tower: In Sapporo, one of the only Western-style buildings remaining is the City Clock Tower. There's a nominal fee to enter the building but it's one of the most popular spots for travelers to gather and take photos. No trip to Sapporo is complete without a selfie at the City Clock Tower.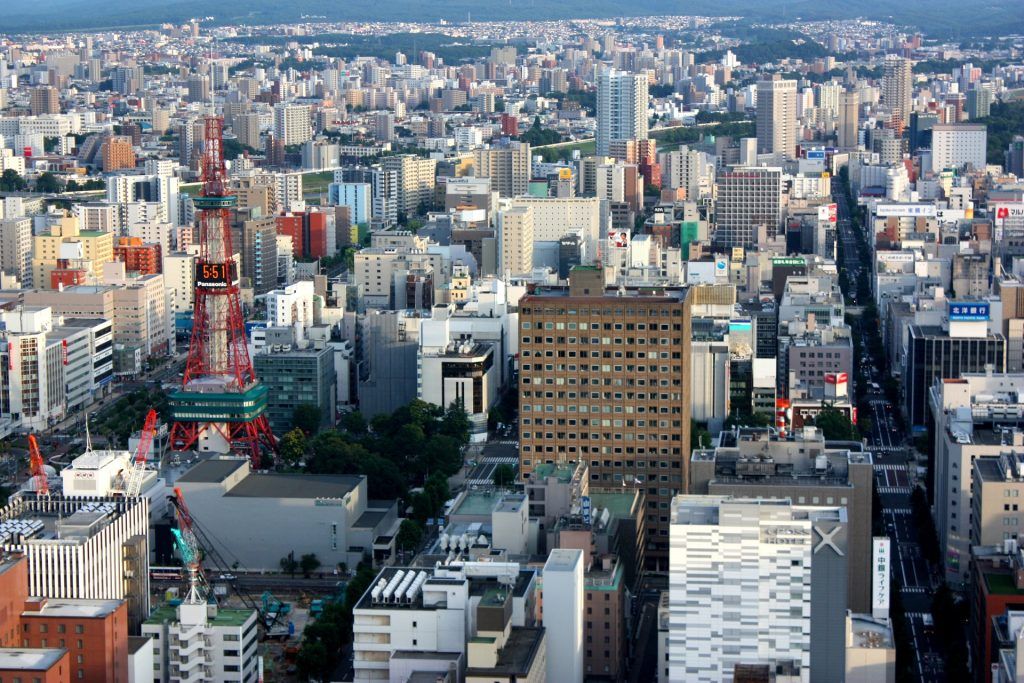 Make a reminder note to eat some very special ramen: Hokkaido is home to some of Japan's most delicious ramen, but none is more famous than the "butter corn" variety.
There are hundreds of variations on this mouth-watering dish, but the main ingredients are top-grade ramen noodles, butter, potato chunks, and sweet corn. A meal in itself, and a Hokkaido creation, most local noodle shops offer several versions of this amazing dish. Don't miss it while you're in Hokkaido.
Clothing: Pack for cold weather but be sure to bring enough of the following items to last the entire trip. Hopefully, you'll be able to pack enough that you'll only need to visit a public laundry facility once or twice.
Several pairs of gloves are a must. Try to bring one pair of lightweight gloves, a thicker pair and a pair of mittens. Pack a few wool caps and at least one winter headpiece with a face covering. Remember to bring along one or two sets of thermal underwear, some good snow boots, a pair of sturdy all-weather hiking boots, two pairs of thermal socks, one very warm winter coat, a lightweight jacket, a windbreaker, several thick scarves, and three or four pairs of pants that can withstand cold winds.
In addition to clothing items, consider bringing the following things: a "universal" travel case for all your breakable and fragile gadgets, a laptop, a tablet, charges for every electronic item you bring, a set of high-quality earbuds, a smartphone and charger, an international plug adapter, a small flashlight and a supply of batteries for the devices that need them.
It's also wise to purchase a decent first-aid kit and as many small toiletry items as possible. Extra toothbrushes, Vaseline, and band-aids can come in very handy when you're far from a big city.
Read about the Ainu: Before traveling to Hokkaido, do some research on the nation's indigenous people, the Ainu, who live in Hokkaido.
You will no doubt meet a few Ainu so it helps to know a few key facts about their history, mainly that they are thought to be the first inhabitants of the island, and today number about 200,000. Their language is completely different than the Japanese as are their customs.
Know about the bears: Think about purchasing some bear-repellent bells after arriving in Hokkaido, as many foreign-sourced products, like pepper spray, are banned in Japan due to various chemical ingredients. It's smart to have some bear bells if you intend to hike because Hokkaido has plenty of local bears. In fact, animal experts think that Hokkaido has more brown bears than any other place on the continent of Asia.
Plan a day for touring the farms: Hokkaido is Japan's "farm country," and is the main producer of all home-grown produce. The island of Hokkaido is dotted with farms of all types, so do a bit of research about the areas where you'll be staying and consider taking one of the many "farm tours."
All over the island, particularly in the smaller towns, you can arrange to visit and tour farms. The dairy farms are a very popular choice for first-time visitors because the areas are breathtakingly gorgeous.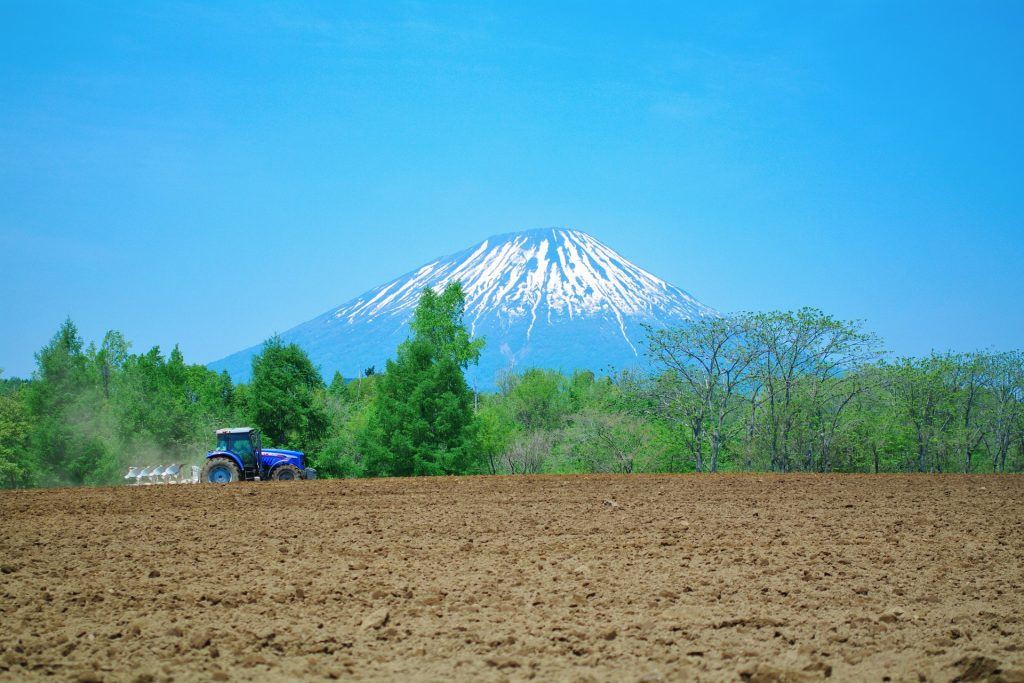 See the chocolate park: In Miyanosawa is the Shiroi Koibito Park, one of Japan's most interesting landmarks. A 600 Yen entry fee gets you in. They make chocolate and chocolate-flavored things that are so delicious you'll never want to leave. Be sure to sample everything and buy your favorite item, like the world-famous biscuits.
Owned by candy-maker Ishiya Ltd., The "black" and "white" biscuits feature milk chocolate and white chocolate centers and cat-tongue-biscuits on the outside. The company sells about200 million of these items each year worldwide. The chocolate park is a favorite for children of all ages and adults who enjoy chocolate.
When to Go to Hokkaido
Many travel guides mention the month of June as the best time to visit Hokkaido, but this suggestion is misleading. There is plenty to do year-round on the island, no matter what a traveler's activity preferences.
June is the warmest month in Hokkaido, but make a mental note of the seasonal events that take place and try to find something that suits your desires during whatever time you visit. Here's a quick month-by-month summary of what to do in Hokkaido:
January
Skiing, Coming-of-Age-Day, Crane viewing, New Year's Day celebrations. New Year's is the biggest annual holiday in Japan so expect most stores to be closed, except for a few convenience shops in the larger cities.
February
The dog sled races in Wakkanai, the Asahikawa Winter Festival, skiing, viewing season for tancho cranes, numerous drift-ice tours everywhere, the Sapporo Snow Festival
March
Skiing, crane viewing, drift-ice events, ice village built on Lake Shikaribetsu
April
Rafting season
May
Cherry blossoms in early May, whale-watching, seabird viewing, and brown bear watching, the Sapporo Ramen Show
June
More brown bear watching events, hiking, Yubari melon season, whale- and seabird-watching
July
Hiking, fireworks shows, bear- and whale-watching, seabirds in flight, lavender fields in Furano are blooming, hundreds of festivals dedicated to fishing safety and success
August
Fireworks, whales, seabirds, and brown bears
September
Coral grasses change color
October
Time to view the autumn leaves, watch brown bears and attend the Marimo Matsuri festival
November
Best time to see the tancho cranes
December
Ski season and crane-watching, the tancho cranes (known in the West as red-crowned cranes) are among the rarest birds on earth, are quite large. Wingspans are typically greater than seven feet, and body length is greater than five feet, with an average weight of 10.5 kilograms. Tourists from all over the world come to Hokkaido to photograph and see these amazing animals.
Weather Facts
Fall and spring are not long seasons but are the most comfortable in terms of temperature. Summers tend to be dry and very warm. At most every tourist accommodation, you'll find air conditioning and heat.
Winters, of course, can be quite cold due to Hokkaido's location, but remember that daily temperature variations can be wide, depending on a location's distance to the coast and elevation. Always check local weather conditions of your destination city before departure.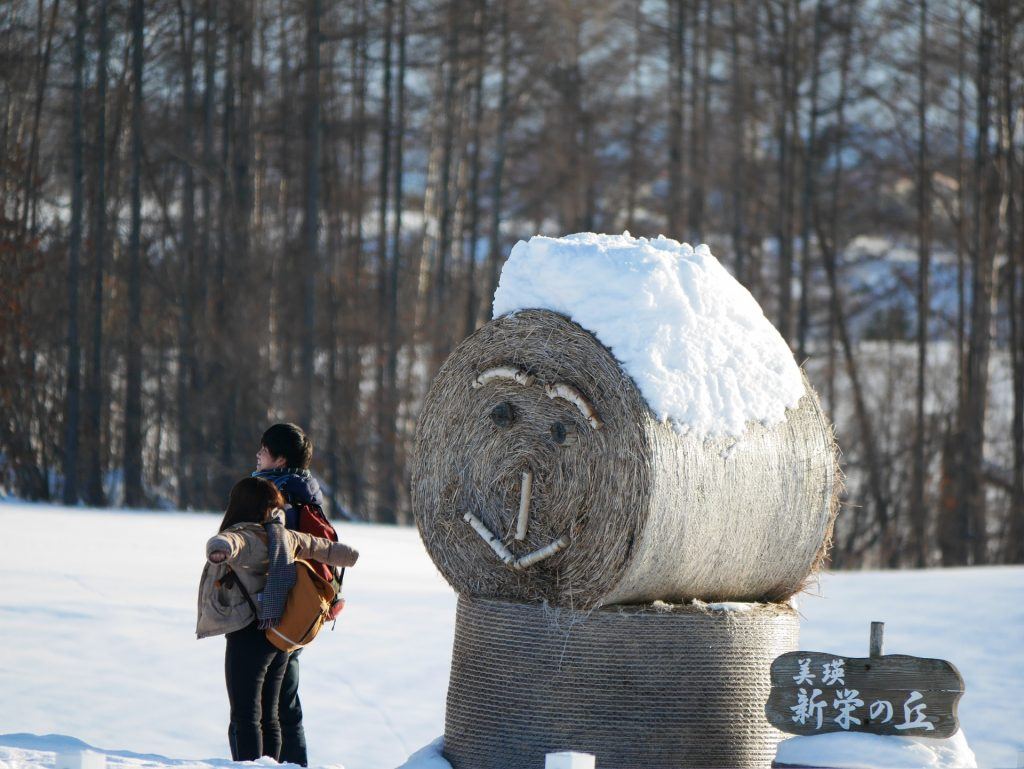 Locals make the most of the cold winters by celebrating various snow festivals and gazing at the extremely clear skies on starry nights. Winter is a busy time for hot springs, fireworks displays, gigantic festivals, and skiing. Visitors are advised to wear layered clothing at resort areas because heating can mean vast temperature differences between indoors and outdoors.
Think about purchasing a few "heating patches," which the Japanese call "kairo," as a way to fight the winter chills, especially if you're headed to one of the many famous ski resorts like Furano or Niseko.