Finding the Best Tea Ceremony Venues in Kyoto
Tea ceremony in Japan is more than 1,000 years old and is an integral part of the nation's cultural heritage. Tourists can locate tea houses that allow full or partial participation in formal tea ceremony all over Japan, even in the mega-cities like Tokyo.
Matcha green tea is at the heart of the ritual. Its ingredients impart a form of mental alertness and clarity that is hard to find in any other natural beverage. In a way, matcha tea and the formal ceremony surrounding it are forever linked together in Japanese history and culture.
In "Old" Kyoto
Visiting Kyoto is like traveling back in time. This unique characteristic of the city is what makes it the perfect place to experience a formal Japanese tea ceremony. Some of the first known rituals involving tea were held in the city nearly 1,000 years ago. Some historians argue that because the Kyoto region supplied the nation with tea, it became a natural center for the birth of the now-famous ritual.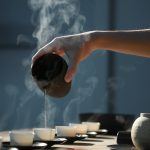 Compared to Tokyo, Kyoto is "the real thing," though many residents of the modern urban city would disagree. Putting regional disputes aside, Kyoto is the undisputed leader for "underground" tea ceremony venues. These unlisted locations can only be discovered by consulting a Japanese tour agent or knowledgeable personal friend who resided in the city. Expect to attend with an interpreter if you are lucky enough to discover one of these "invisible" Japanese tea houses.
The following list contains 10 of the best tea ceremony venues in Kyoto, complete with name, location, fees (in yen), unique attributes, and a contact phone or website. Top 5 are first, followed by 5 "runners-up." Note that most tea ceremony venues do not have an English-speaking staff even though most of their websites are offered in multiple languages.
*For monetary conversion, the following rates were used: 1 Euro = 128 yen. 1 Pound Sterling = 144 yen. 1 US dollar = 112 yen.
Name: Nagomi
Location: Ninenzaka neighborhood
Fees: ¥2,500
Unique attributes: One of the best venues in the world for English-speaking people to experience a tea ceremony. The welcoming staff speaks many languages, is genuinely friendly, and offers a full educational lesson on what happens during the ceremony. For the price and exquisite décor, there is no better value in all Japan.
Contact: See website.
Name: Taiho-An
Location: Uji City, about 35 minutes south of Kyoto
Fees: ¥1,200
Unique attributes: It's worth the trip to drive or take the train south of Kyoto and experience tea ceremony in a region known for growing some of the finest matcha on earth. For those who can't sit on the floor, tables and chairs are provided. For older travelers, the chairs are a welcome sight! Uji City is thought to be the first place where matcha was cultivated in Japan, which is why so many Japanese people visit the city year-round.
Contact: Email Taiho-An management for more information or to reserve. They read and respond in English.
info@kyoto-uji-kankou.or.jp
Name: Camellia
Location: In the famous Ninenzaka neighborhood of Kyoto. The Camellia "private" tea ceremony is held at the Ryoanji Temple garden, about 30 minutes north of the main site.
Fees: ¥2,000
Unique attributes: Camellia is sort of like a classroom where you can learn the entire history of the tea ceremony, be shown how to prepare matcha tea and take part in (or just watch) a full ceremony. For an additional fee, visitors can rent an authentic kimono for use during the tea ceremony.
Contact: Email the venue for more information or to reserve.
camellia.teaceremony@gmail.com
Name: Ju-An
Location: A short walk from central Kyoto
Fees: ¥2,000
Unique attributes: This venue is famous for its authentic Zen-centered tea ceremony for visitors who want to understand how the whole tradition began. The hostess delivers a short introductory talk before the ceremony starts, and takes questions from the group. There's a tea room with a connected garden. Sweets are served with each ceremony.
Contact: Email for information. They speak excellent English.
teaceremonykyoto@gmail.com
Name: En
Location: Kyoto's Geisha district about 20 minutes from the central corridor.
Fees: ¥2,500
Unique attributes: Visitors describe En as "the real deal," because it's located in one of the oldest continuously inhabited neighborhoods in Japan, is known as the "Geisha district," and offers an authentic tea ceremony experience. The host explains everything beforehand in English so visitors know what to expect. This is "real tea ceremony," the way they did it hundreds of years ago.
Contact: Email En for information. They speak perfect English.
info@teaceremonyen.com
Name: Ichiriki Chaya
Location: In the Gion Geisha district
Fees: ¥4,000
Unique attributes: In the old part of the city where tea houses were first established.
Contact: Phone 075-531-2288
Name: Ran Hotei
Location: Central Kyoto near Nijo Castle
Fees: ¥2,000-4,000
Unique attributes: A quaint little café and art gallery that has a loyal local following. The tea ceremony is taught like a class for visitors, who have a choice of watching or taking part. It's located in a beautiful part of town off the beaten path.
Contact: See website.
Name: Okitsu Club
Location: Just across from the Kyoto Imperial Hotel, one of the world's most famous historic sites.
Fees: ¥6,000
Unique attributes: Price includes full ceremony, lessons, and sweets.
Contact: See website.
Name: Tea Ceremony Room Juan
Location: Near Kyoto Station
Fees: ¥2,500
Unique attributes: Old, authentic, great value for first-timers or experienced tea ceremony enthusiasts.
Contact: See website.
Name: Tondaya
Location: In the Northwest part of town
Fees: ¥3,240
Unique attributes: Located in a very old house on the outskirts of town, the atmosphere is ancient and authentic-feeling all around.
Contact: See website.
Before You Go
Always try to contact the venue in advance because many of the Kyoto tea houses get booked up during travel season. A reservation will hold your place whether it's for one person or a large group. Arrive early so the host/hostess can explain any special circumstances and answer your questions.