The Smart Way to Do Tea Ceremony in Japan
Attending a tea ceremony in Tokyo is a must-do event for any visitor. The country's famous tradition dates back more than 1,000 years and is an integral component of Japanese culture. The philosophy, ceremony, personal interaction and meditative aspects of formal tea ceremony are a major part of what many social historians call "the Japanese social personality."
Visitors interested in tea ceremony should do some homework before leaving for Japan, and ought to decide how much of a first-hand experience they want.
For example, there are ceremonies where visitors simply observe but do not take part. Other programs for tourists are designed to include non-Japanese attendees, and often provide interpreters who speak Spanish, French, English and other languages of the participating groups.
Finally, for Japan culture enthusiasts who feel the need to delve deeply into the ceremony, there are a few "Japanese-language-only" affairs which occasionally let visitors sit in as long as can participate and/or not disrupt the proceedings.
In "Modern" Tokyo
Visitors to Tokyo will find a quite different "tea culture" than anywhere else in Japan. Being one of the world's largest cities and cross-cultural metro areas, Tokyo's tea scene has been heavily influenced by non-Japanese culture and modernity in general.
Even so, the ancient crux of the ceremony is basically the same in many of the ultra-chic city's tea houses. Tourists should be keenly aware of what type of ceremony they are attending, fees, hours of operation (which change regularly and sometimes without notice), and unique aspects of each tea house on their itinerary.
The following list contains 10 of the best tea ceremony venues in Tokyo, complete with name, location, fees per person (in yen), unique attributes, and a contact phone or website. Top 5 are first, followed by 5 "runners-up." Note that most tea ceremony venues do not have an English-speaking staff even though most of their websites are offered in multiple languages. Most Tokyo taxi drivers will know all these locations by name, so don't worry about exact directions.
*For monetary conversion, the following rates were used: 1 Euro = 128 yen. 1 Pound Sterling = 144 yen. 1 US dollar = 112 yen.
Name: Toko-An
Location: The tea ceremony room at the world-famous Imperial Hotel, in the Hibiya region of the city. Centrally located.
Fees: ¥2,000
Unique attributes: This venue is for semi-participation. Guests are asked to sit in silence on the floor while the tea and a sweet are served to them. Visitors can see the full, formal ceremony in practice and drink tea, without having to know much about what is happening. Great for families with older kids and short-term visitors to Japan. The price is exceptionally low considering what is provided and the opulence of the venue. Reservations required.
Contact: Click to visit the official English-language website.
Name: Jugetsudo
Location: On the fifth floor of the Kabuki Theater building
Fees: ¥6,000, which includes a matcha tea set worth appx. ¥4,200
Unique attributes: This venue offers tourists a wonderful way to take part in a formal tea ceremony with full English-language explanations as the event progresses. There are tea-prep lessons and explanations of all the details. Worth the slightly higher-than-normal price and located in an excellent area for further sight-seeing.
Contact: Click for English website.
Name: Shizu Kokoro (Clear Heart)
Location: Asakusa area of Tokyo
Fees: ¥4,000
Unique attributes: This venue offers visitors the chance to either watch a ceremony or take part. It lasts 90 minutes and is an excellent value and enriching educational experience as the guides are experts instructors and tea masters.
Contact: Click for multi-language website.
Name: Happoen
Location: In the Mejiro area
Fees: ¥8,640
Unique attributes: A bit on the pricey side but Happoen is a formal tea ceremony venue for those who want to experience the real deal in the heart of Tokyo. Visitors can take part, as the listed price, or just watch for about 25 percent of the full price. Something for every taste.
Contact: There's no English-language website but they do have a Facebook page here.
Name: New Otani Hotel's Seiseian
Location: Central Tokyo, Shibuya area
Fees: ¥1,000
Unique attributes: On the seventh floor of one of Japan's most elegant hotels, this venue caters to visitors but offers an excellent, short version of the traditional tea ceremony in multiple languages. For the price, it's a bargain for families and business groups who want to "taste" the ancient ceremony.
Contact: See website for details.
Name: Chazen
Location: Ginza area of central Tokyo
Fees: ¥3,500
Unique attributes: Excellent, traditional ceremony in English, Chinese and Japanese daily. Situated in the middle of several famous tourist spots.
Contact: See the English-language website.
Name: Yanesen Tour and Cultural Center
Location: In an older neighborhood of Tokyo
Fees: ¥5,800
Unique attributes: The neighborhood's ambiance adds to the experience. Yanesen is more like a teaching facility for those who want to learn about the tea ceremony.
Contact: See the website.
Name: Nadeshiko
Location: Taito district
Fees: ¥4,000
Unique attributes: Old-fashioned place with a strong reputation for no-frills, basic tea ceremony in the authentic tradition.
Contact: See website.
Name: Hamarikyu Gardens
Location: Central Tokyo
Fees: ¥ 720
Unique attributes: House was constructed in 1704. The basic ceremony, complete with a sweet and for a price that can't be beaten.
Contact: See the website.
Name: Shinjuku Gyoen
Location: In the world-famous Shinjuku neighborhood of Tokyo
Fees: ¥700
Unique attributes: Another basic ceremony for visitors at a fantastic price, and in a breathtaking garden.
Contact: See website.
Essential Pre-Trip Tasks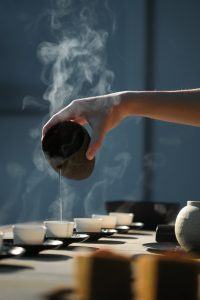 It is well worth the effort to read up on the different kinds of tea ceremonies and event etiquette. The more you know, the more you can appreciate and enjoy formal tea ceremony anywhere in Japan.
There are several high-quality videos online that give a clear idea about what to expect, but remember that an in-person experience is unique: no filmed version can deliver the same impression as an actual, live ceremony conducted by a real tea master.
Taking part in tea ceremony is like visiting the Louvre Museum in Paris. Every hour spent in preparation for a visit is rewarded a hundredfold when the actual day of attendance arrives.