The Japanese love festivals and the nation's summer celebrations are some of the most colorful and well-attended. Like so much else in Japan, festivals are often tied to important historical events and spiritual concepts. Depending on where a particular festival takes place, it could be ancient or modern, highly significant or just a "fun" get-together of local people.
It seems like every Japanese summer festival is designed to both entertain and educate. This goes for the local residents as well as tourists. A comprehensive Japan guide on festivals usually includes more summer and winter events than spring and fall ones. That's because summer weather tends to bring out the crowds and winter festivals held in snowy regions are strikingly beautiful.
But summer in Japan is special. This part of the festival season is explosively exciting, features outdoor entertainers, and always aims to please. What is the best Japanese summer festival? That question is impossible to answer because they're all so different.
Travelers should know the basics about the top-rated festivals, where they're held, and what to expect when you get there. The Japan guide for summer festivals, featuring the best of the best, is below.
Best of the Best Japan Summer Festival Events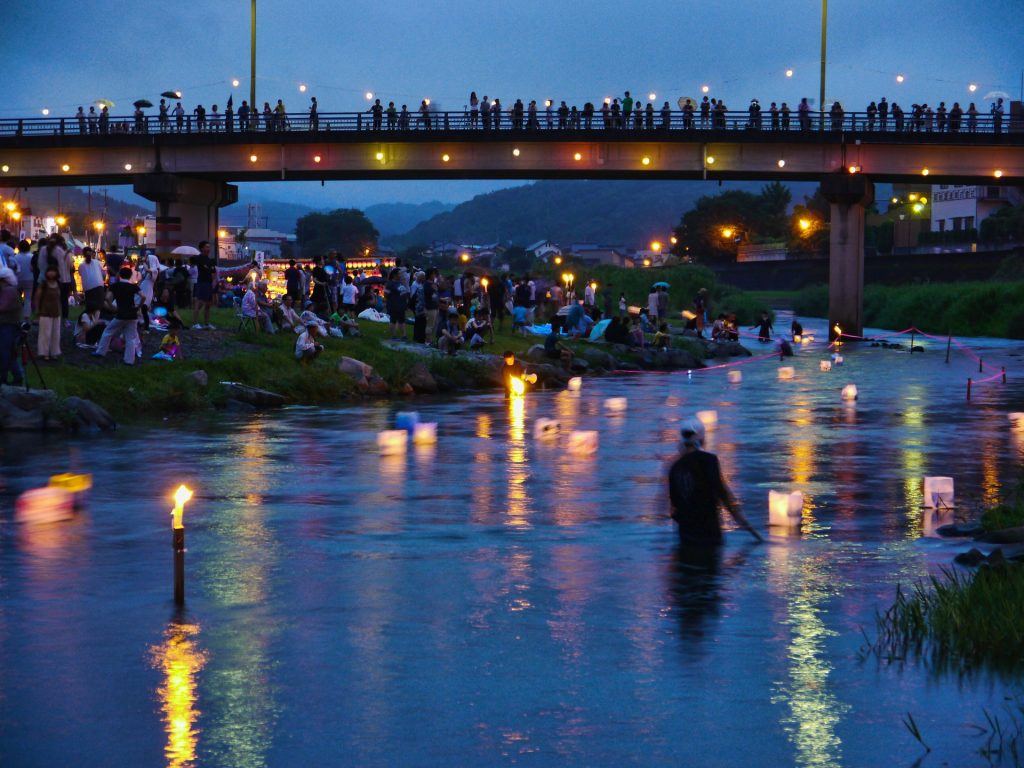 Kyoto's "Gion Matsuri"
Throughout July, Kyoto's Yasaka Shrine is the location for this huge festival, one of Japan's most popular. This might be called the Macy's Thanksgiving Day Parade of Japan. The floats and parades are spectacular and huge. The decorations are opulently beautiful and the festival dates back all the way to the ninth century.
Outside of Tokyo, this is one of the most popular events in Japan each year. People travel from all over the country to attend, and the old tradition of selecting a young boy as a "messenger to heaven" is still carried on. The lad is paraded around on a platform all day long to keep him from touching the ground too soon. That would "break the spell" and invite bad things from the gods, legend says.
Tenjin Matsuri in Osaka
Osaka's "Festival of the Gods" is held each year from July 24 to July 25. The 1,000-year old event was first put on to honor the Japanese god of academic study. There are prayers, performances, drummers, dragon dancers, parades, fashion shows, and a massive fireworks display to close things off.
Tanabata Matsuri in Sendai
If you're in Sendai's downtown area sometime between August 6 and 7 on any given year, this is one of the jewels of the Tohoku area's festival season. Dancing, stage shows, live bands, food, drink, and millions of multi-colored streamers are part of the fun.
Tokyo's "Sumidagawa Fireworks Festival"
This is Japan's oldest fireworks show. Head over to Tokyo's Old Town district on the final Saturday of July. The optics are fantastic and lend themselves to photography. Legend has it that local Samurai warriors wanted to make peace with some unruly "dead" souls, so they put on a fireworks display as a way of resolving the conflict.
The Sanno Matsuri in Tokyo
Tokyo is home to dozens of summer festivals but this is one of the city's "big three" by any measure. Held in mid-June during years that are even-numbered, this summer festival features everything you could want in a major event. There are parades, historical shows, marches of various groups, hundreds (maybe thousands) of food/drink/gift stands, and huge crowds.
The atmosphere can get a bit raucous at times but people attend the Sanno Matsuri festival to eat, drink and enjoy themselves. For visitors who can attend only one festival, this is a good choice.
A Quick Japan Guide to Festival Etiquette
At a Japanese summer festival of any kind, no matter how wild and crazy the atmosphere is, there are a few rules of etiquette to be observed. This is true in most aspects of Japanese culture, and also pertains to festivals.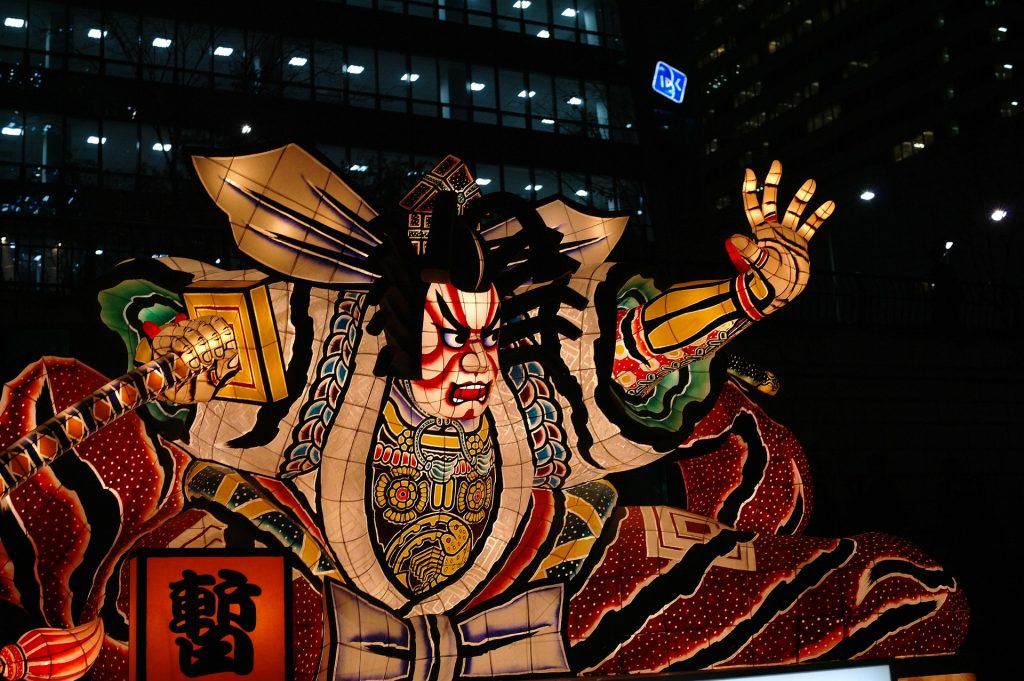 Let the people of Japan guide you when it comes to behavior. Watch what they do, and what they don't do. At festivals, there are a few things it helps to know if you are a first-time visitor to Japan. Here's a quick summary:
The Japanese typically do not eat food while they walk, with the exception of ice cream cones. At festivals, you'll encounter hundreds of different kinds of treats, some liquid and some not. Try to eat solid foods only while seated at the chairs and tables provided. But, yes, it's completely okay to take your ice cream when you get up to wander around.
Many tourists rent bicycles in Japan, which is an inexpensive and convenient way to see the sights. But at festivals, bikes are a no-no. The reason is simple: if everyone rode a bike, walking would be dangerous. You'll notice that Japanese who arrive at the festival site will park and lock their bikes in a designated area. If you can't find a safe place to leave your bike, just walk with it. That's completely permissible. Just don't ride it where people are enjoying the festival on foot.
You'll no doubt need spending money at a Japanese summer festival. Here is a good situation to let the local people of Japan guide your behavior. Use small bills and coins to pay for food and souvenirs. Booth owners often are not able to accept large notes, so try to use 1,000-yen bills or coins when you pay for items. It will be appreciated. And, more importantly, it's the Japanese way of doing things.
Finally, the two most basic Japanese summer festival etiquette points: Use "festival-designated" restrooms, not the ones in local businesses near the festival site. An exception to this includes local retailers and office buildings that have signs saying, "Restrooms open for festival-goers." Otherwise, use the small portable restrooms for attendees.
For tourists, a key point about etiquette related to luggage. It is considered rude to bring carry-on type luggage to a festival. Nor should you wear extra-large backpacks. That's because festivals are often crowded and anyone with luggage or a large item on their backs will hinder the flow of the crowd.
Before You Go
Travelers should make a list of the summer festivals they plan on attending before they depart their home country. It's too easy to get swept up in festival-mania after arriving in Japan for a summer trip. If you have a short list of four or five festivals you plan to visit, you can read about them in advance and know the particular traditions about each one.
But the main guideline is to have fun, sample food, and drink items, and mingle with the other people at the festival. A Japanese summer festival is an exciting way to learn about the culture and meet people.