Two UNESCO World Heritage Sites worth seeing in Japan are Shirakawago and Gokayama. They are secluded in the nation's majestic Hida mountain range and feature some of the most breathtakingly gorgeous villages on earth.
To visit these towns is like taking a vacation from the modern world, into a place where old-style architecture and small-town society still exists. Even though there are ten other UNESCO World Heritage Sites in Japan, these are the only towns that have achieved such status.
The thatched-roof buildings, called gassho-zukuri style, have extremely steep roofs to deter buildup of snow. Even at that, each winter sees plenty of snowfall on the villages and pile up on housetops.
Some Japanese long ago thought the buildings looked like praying hands of a Buddhist monk, so they named the building style "clasped hands," which in Japanese is called gassho-zukuri. In fact, such buildings used to be very common on the island of Honshu's north and central coasts where deep snows accumulate winter after winter. If the roofs were flat-topped or less steep, there's the chance they'd cave in. That's how the super-steep style of a building came to be.
The thatching gives a strong dose of insulation to the homes, most of which range in height from two to five stories. In the old days, the thatched-roof homes reserved their top story for the cultivation of silkworms, while the lower floors were used for making paper.
Tourists need to remember that the UNESCO naming system is not perfect, which means the historic villages are actually located in and near Gokayama and Shirakawago-go. Look for the hamlets of Ainokura, Suganuma, and Ogimachi as well as Shirakawago and Gokayama.
The cities offer a wonderful array of views within two of Japan's most scenic prefectures, Toyama and Gifu. Geographically, all these hamlet towns occupy the famed Shogawa Valley, one of the world's most beautiful stretches of land.
Old Houses and Mountain Villages and More!
There's plenty to do in Shirakawago and Gokayama. The mountain villages, old houses, and fascinating architectural styles (especially the gassho-zukuri or "praying hands" roofs) make the area one of Japan's true wonderlands of the old world lifestyle. Both towns become idyllic winter showcases when the snows begin to fall each year.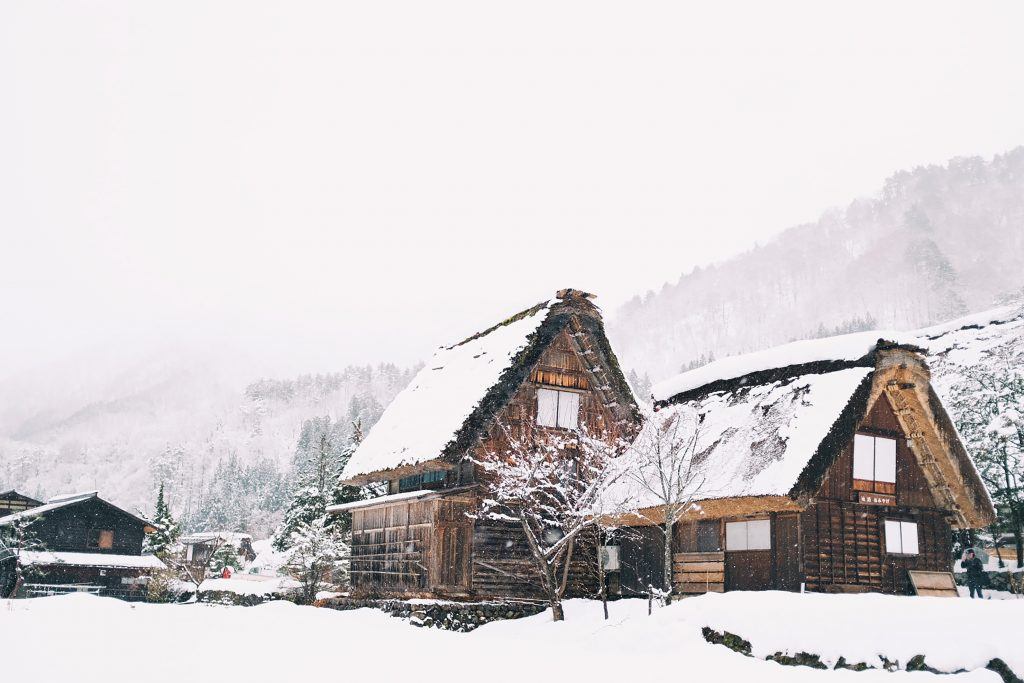 Here are some of the top activities for visitors to the area:
Stay in a Minshuku
These uniquely Japanese Bed & Breakfast lodgings are common in the area. Many are converted farmhouses that are connected to a family's other properties. In the old days, Japanese families would sit around the open-air fireplaces, built into the floor, and talk about the events of the day.
Visitors who stay in a traditional minshuku will be surprised to find these old fire pits still operational. They can be used for both cooking food and heating large pots of water. Be sure to ask your proprietor if the fire pit (called an irori) is functional. Maybe you'll even be able to use it during your stay.
See the Famous Ainokura Crafts Museum
This gem of a museum is packed with traditional artifacts from centuries ago, including specialized drums made from nothing but carved wooden blocks, straw beds for cats, and other odd and amazing things.
In olden times, locals used giant bamboo pillars, spaced closely together like metal bars, to keep wild pigs from terrorizing the townspeople. You can see some of those bamboo "bars" in the museum, along with hundreds of other intriguing pieces of local history.
Visit the Gassho-Zukuri Minia-En Museum
This "museum" is really a completely restored village, made from reconstructed houses, thatched roofs and all. They've all been transported in pieces and then rebuilt from the local Shirakawago area. There are even a working coal room, a horse stable, and a real temple.
While you're there, take part in a short class and learn to make some of the old-world crafts like woven baskets and dyed fabrics. Visitors to the local area love this museum for its hands-on activities and the authenticity of its recreated village atmosphere.
Within the museum, there's another large space dedicated to soba noodles! If you like soba, you'll love being able to make your own noodles and eat them right at the table where you created them.
The Doburoku Festival
If you're lucky enough to be in the area in the fall months, take part in the Doburoku Festival. There are dozens of events but one of the main ones centers on visitors. The local folk prepares a special kind of sake for travelers. Drink just a little because it's powerful stuff. After drinks, visitors and local residents take part in the famed "lion dance."
Don't worry if you don't know how to do it. Instructors will teach you the main steps and the sake will remove all your inhibitions. The dance is called the "shi-shi-mai" and it's quite lively. Many tourists come home with photographs of themselves doing the dance but have no real memory of the festival due to the "sake effect."
Spend Time at the Shiroyama Observation Deck
You'll be able to see the entire village from this fantastic peak. Take in the entire panoramic view and don't forget to take a dozen or so photographs.
Become a "Night Gazing" Pro
The locals call it night-gazing, but most people just call it "walking around after dark and enjoying the amazing view of lighted homes that appear to be almost buried in snow." The tranquility of the villages is something to behold, and there's no better time to witness the somber, natural atmosphere than at night.
Don't forget to look up. This is one of the best places in the area for star-gazing too. The crisply lit sky twinkles with billions of bright stars while the village below is lit up by the warm glow of hundreds of residential windows. For many travelers who return here every so often, this is one of the best things to do and is the reason they fall in love with the area.
See Kanda House
There's a huge structure in the village called Kanda House. It was once a working farm structure but is now partly converted into a tourist store where you can have a cup of tea and a small snack while you wander through town. There are also plenty of interesting artifacts that highlight local history. The five-story building is built in the gassho-zukuri style and is itself a museum piece. Kanda House is the perfect place to rest, take a few photographs and exchange pleasantries with the locals. They're always happy to see visitors and even if you only know a few words of Japanese or no Japanese, they'll greet you with warmth and friendship.
Tour the Myozenji Temple and Museum
This authentic complex features two huge, thatched-roof buildings. There are all sorts of displays that explain how life was back in the old days on local farms. If you have an interest in how silk used to be made, there's a wonderful demonstration for visitors that is unlike anything you can experience elsewhere in Japan.
Purchase Unique Gifts and Souvenirs
You'll notice dozens of souvenir and gift shops while you wander through Shirakawago and Gokayama. Remember that many locals make their living as sellers of tourist items like paintings, small figurines and similar products.
Buying a few souvenirs is a good way to say "Thank you" to the local economy before you depart. Plus, the goods are high-quality and are the perfect way to remember your trip to these UNESCO World Heritage Sites.
Be Ready for a Trip to UNESCO World Heritage Sites
Travelers should be ready for cold weather if visiting these towns during their peak snowfall seasons, from November until February. But in spite of the cold, both Shirakawago and Gokayama are unique travel experiences that are worth a lifetime of memories. The historic villages have somehow maintained their style of life from more than 2,500 years ago. It's enough to make anyone feel like they've taken a time machine back to Old Japan.